Main content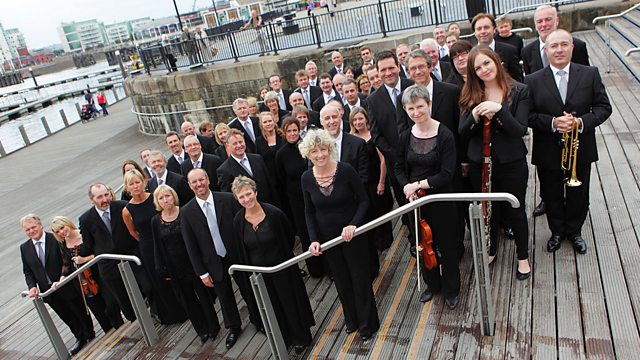 Live from BBC Hoddinott Hall, Jac van Steen conducts the BBC National Orchestra of Wales. Mussorgsky, arr Shostakovich: Khovanschina (Prelude to Act 1). Prokofiev: Symphony No 7.
Live from BBC Hoddinott Hall in Cardiff
Presented by Nicola Heywood Thomas
Final musical thoughts from Prokofiev - his 7th Symphony, and Bartok, his 3rd Piano Concerto with Jean-Eflam Bavouzet. Jac van steen conducts the BBC National Orchestra of Wales
Mussorgsky (arr. Shostakovich): Khovanschina - Prelude to act I ("Dawn on the Moskva river")
Prokofiev: Symphony no.7
Jean-Efflam Bavouzet (piano)
BBC National Orchestra of Wales
Jac van Steen (Principal Guest Conductor)
Principal Guest Conductor Jac van Steen conducts the BBC National Orchestra of Wales in two musical farewells and an ambitious symphonic first. Written at the close of their lives, Prokofiev's Seventh Symphony is both nostalgic and has a wide-eyed childlike innocence, while Bartok's Third Piano Concerto is warm and valedictory. Each is among its composer's best-loved works. And written within ten years of both, Otto Ketting's First Symphony is an ambitious early work by one of Holland's most important composers.
Otto Ketting (1935-2012) was perhaps the most important composer in the Netherlands to continue the great tradition of Gustav Mahler and Alban Berg, wonderfully demonstrated in his First Symphony. His musical style combines the soundworld of Stravinsky's objectivity and Berg's emotionality, writing from a modernist perspective that takes tonality and atonality equally. It's all wrapped up in utterly exuberant orchestral colours, no doubt harking back to his earlier career as a solo trumpeter in orchestras. In his own words, "Music should be about emotions and experiences, time and surroundings..."
Bartok left his native Hungary in 1940 to settle in America, but during his final five years, despite the many honours bestowed upon him, he had few offers of real work. Life remained precarious. The Third Piano Concerto was his last work, written whilst suffering from leukemia, the composer finally copied out the score from his sick bed. It's far less astringent than the previous two piano concertos, it's simpler with sparser textures, revealing the mellow side of Bartok's musical personality. At the end of his life, he returned to the melodies of his Hungarian roots, and incorporated his personal "nature music" - bird calls and insect noises in wind, muted brass, xylpophone and scurrying piano runs. The soloist is French pianist Jean-Efflam-Bavouzet, who's won high praise as a searching, penetrating and imaginatively fired musician, endlessly curious in his exploration of any composer's unique sound palette and language. His Bartok performances have been critically acclaimes as soulful, effervescent and "...pure, unaffected delight...".
After being criticised by the Soviet authroties for "formalism, decedance and bourgeois decay", Prokofiev decided on a more direct and approachable style for his final symphony. Originally the seventh symphony was intended to be for children's audience, with imaginative orchestration and hints of the flavour of his Classical Symphony. When the composer attended the premiere in 1952 it was to be his last public appearnace, he died just 5 months later. Four years later, the Seventh Symphony won the Lenin prize for music.
More episodes
Next
You are at the last episode