Main content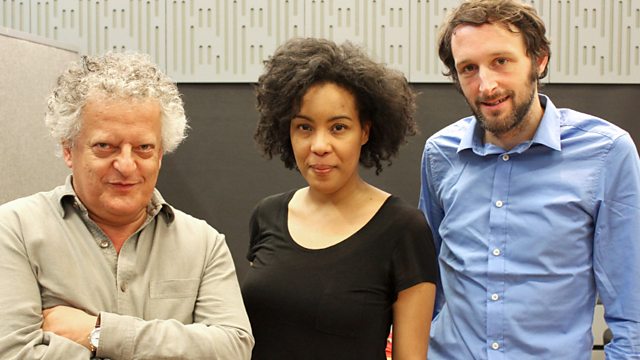 Irvine Arditti, Elaine Mitchener, Alasdair Roberts
Max Reinhardt's selection includes Daphne Oram' Radiophonics, Welsh hip hop and a session with singer Elaine Mitchener, violinist Irvine Arditti and guitarist Alasdair Roberts.
Max Reinhardt presents this month's unique music session: improvising singer Elaine Mitchener, avant-garde violinist Irvine Arditti & folk singer/guitarist Alasdair Roberts came together in the studio for the first time to record original music for tonight's show.
Also in the show, tracks include New Atlantis by Radiophonic composer Daphne Oram, Welsh hiphop from Llwybr Llaethog, High Interference by percussionist Simon Limbrick, Two Tears by Eliza Carthy, Weeping Mary by Sam Amidon and fresh from Bahia, Eu Nao Sou Daqui by Quixabeira de Lagoa da Camisa.
Music Played
Late Junction Collaboration Session:
Late Junction Albums of the Year 2018
Is the synth the ultimate feminist instrument?