Main content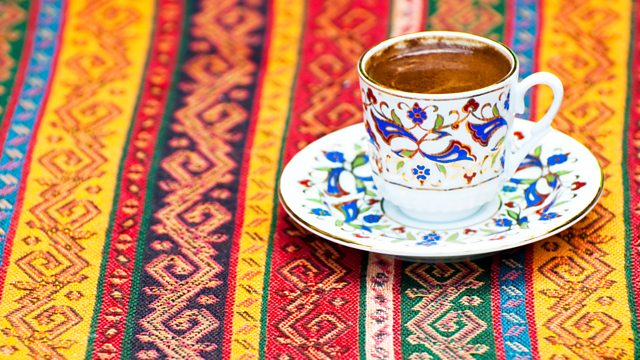 Stirring Up a Revolution
Writer Tarek Osman explores how cafés and coffee houses have shaped politics and culture in the Middle East.
"Café spaces, coffee houses and culture and politics work together almost from the genesis, the very beginning of cafes". Dr Mohamed-Salah Omri, Oxford University.
Author and journalist Tarek Osman returns to the Middle East to explore how the apparently unassuming establishment of the Café has served as a vibrant hub of change in the political tsunamis that have swept - and are still sweeping - through the region.
From neighbourhood sanctuaries to while away the time, to highly charged cultural salons, no two Arab cafés are the same. They are lively centres shaped by the community around them and have long been the targeted nuclei of free thinking. Poets such as, Awlad Ahmed, profess to have learned their trade, both in politics and art, in these venues - shaping their work and their lives.
To discover just how instrumental they have been, Tarek takes listeners inside 500 year old cafés in Tunis, legendary haunts of Nobel prize writer Naguib Mahfouz in Cairo, buzzing 'western' style cafes full of both men and women, and the vandalised but still open coffee houses clinging to the outskirts of Tahrir Square.
As the lyrical sounds of Arabic and French swim over a heady mix of smoke, mint tea and coffee beans, we hear the poetry and prose that was born in the café and that in turn immortalises this ancient institution. Tarek speaks to the new generation of thinkers, writers and activists who frequent new venues and we step back in time to uncover hidden printing presses and prowling policemen.
But why is the café a source of political expression and contention? Wherever there is a public space where people express themselves, there is opposition and the café and the state have always battled. With governments trying to impose new restrictions and the continued rise of social media, will the cafe continue to thrive or are its days already numbered?
Producer: India Rakusen.
Last on
Author, Ibrahim Abdel Meguid stops for a coffee with Tarek Osman in Café Riche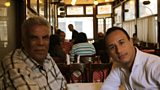 Café Riche, grounded in the constantly changing streets of Cairo since 1908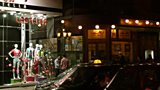 Faded photos of prestigious alumni adorn the walls in El Fishawi, Cairo's oldest café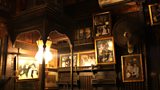 Just one corner of El Borsa's sprawling cafes, differentiated only by the coloured chairs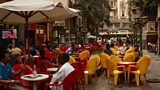 Graffiti covers the shutters of modern coffee shop Cilantro; a witness to the revolution and on-going protests in Egypt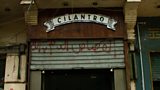 Broadcast