Main content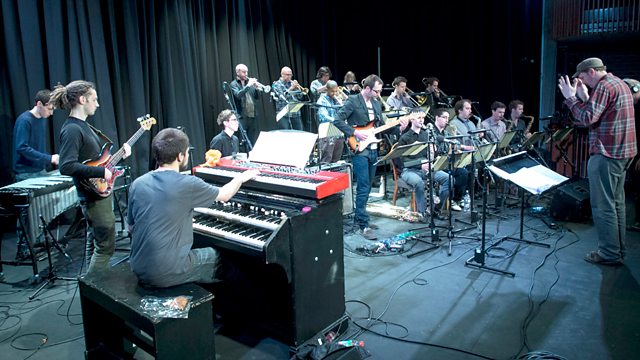 Troyk-estra
Another chance to hear Troykestra in a performance given at the 2013 Cheltenham Jazz Festival. With Chris Montague (guitar), Kit Downes (keyboard) and Josh Blackmore (drums).
A second chance to hear one of the most talked about British performances of the last few years - the 18-piece ensemble Troyk-estra in performance at the 2013 Cheltenham Jazz Festival.
Just as its parent trio Troyka does, the band looks beyond jazz for its inspiration, working rock and electronica into confrontational grooves. And there's still space for Troyka to strut their stuff as a trio within the big band, with Chris Montague on guitar, Kit Downes on keys and Josh Blackmore at the drums.
Presenter: Kevin Le Gendre
Producers: Peggy Sutton & Phil Smith
First broadcast 03/06/2013.
Music Played
BBC Introducing Track

Untitled

Line up: Declan Forde (piano); Tom Wheatley (double bass); Jay Davis (drums)

Kit Downes, Chris Montague and Joshua Blackmore on Troyka's transformation into Troyk-estra

Troyk-estra recorded at Parabola Arts Centre, Cheltenham Jazz Festival on 5 May 2013

Untitled

Chris Montague (guitar/bandleader); Kit Downes (keys); Joshua Blackmore (drums); Nick Smart (director); Reuben Fowler (trumpet); Alex Bonney (trumpet); Noel Langley (trumpet);

Untitled

Imogen Hancock (trumpet); Kieran Stickle McLeod (trombone); Patrick Hayes (trombone); Tom Green (trombone); Courtney Brown (bass trombone); Mike Chillingworth (alto sax);

Untitled

Nadim Teimoori (alto sax); Sam Miles (tenor sax); James Allsopp (tenor sax); Sam Rapley (bass clarinet, baritone sax); Louis Van Der Westhuizen (bass); Ralph Wyld (vibes)

Steve Tromans speaks to Kevin Le Gendre about his transatlantic collaboration

Steve Tromans' Birmingham-Chicago Octet recorded at Hungry Brain, Chicago on 10 February 2013

Untitled

Line up: Steve Tromans (piano); Chris Mapp (double bass); Mark Sanders (drums); Miles Levin (drums);

Untitled

Ken Vandermark (bass clarinet and tenor sax); Dave Rempis (tenor sax); James Flazone (clarinet); Josh Berman (cornet)