Main content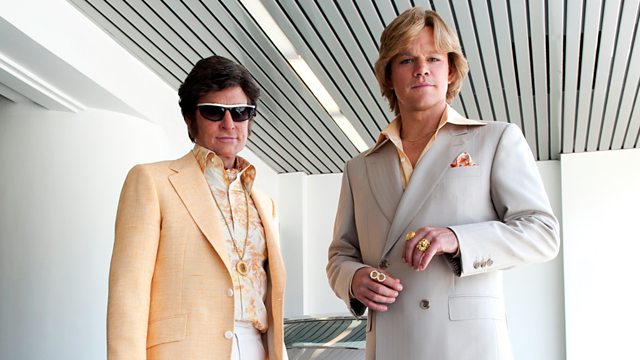 Behind the Candelabra, TJ Clark, Fern Riddell
Presented by Matthew Sweet. Including a review of the new film Behind the Candelabra, an interview with art historian TJ Clark and Radio 3 New Generation Thinker Fern Riddell.
Matthew Sweet has been given licence to range widely and promiscuously in his search for knowledge and fun. The writer, Mark Ravenhill and the literary critic, Sos Eltis will be joining him to consider Steven Soderbergh's film about Liberace - Behind the Candelabra. The film only opens later this week but is already making headlines. Amongst other things Matthew will be asking his guests what it adds to our understanding of "camp" and its part in contemporary culture.
He'll also be talking to T J Clark, one of our most dazzling art historians. Tim Clark's latest book, Picasso and Truth, is typically pugnacious and perceptive. The aim, he says, is to sweep away the tittle tattle which so often passes for Picasso criticism so that we can get a clear view of the artist's achievement.
Between Picasso and Liberace Matthew makes a detour to an Edwardian park in Manchester with Fern Riddell, one of Radio 3's latest crop of New Generation Thinkers. Its midnight on a dark November night and a bomb goes off so it's a long way from a comfortable stroll.
Last on

Chapters
Camp

Mark Ravenhill and Sos Eltis discuss Behind the Candelabra and the changing nature of Camp

Duration: 15:49

Fern Riddell

New Generation Thinker Fern Riddell examines Edwardian female political violence

Duration: 05:20

T J Clark

Matthew Sweet talks to art historian TJ Clark about his latest book, Picasso and Truth.

Duration: 23:52

T J Clark

Picasso and Truth: From Cubism to Guernica by T J Clark is published by Princeton University Press.


Behind the Candelabra

Behind the Candelabra directed by Steven Soderbergh starring Michael Douglas and Matt Damon is released in UK cinemas on 7th June, certificate 15.

Broadcast