Main content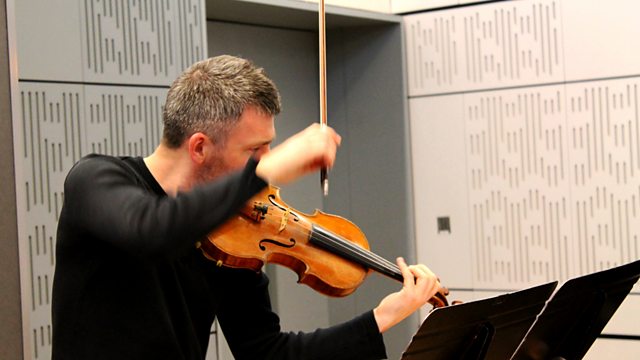 Mark Ravenhill, Heath Quartet, Jessica Duchen
Presented by Suzy Klein. With live music from the young Heath Quartet and re-imaginings of Britten cabaret songs from playwright Mark Ravenhill and singer Jamie McDermott.
Suzy Klein presents.
Up and coming ensemble, the Heath Quartet recently won the coveted 2013 RPS Young Artists Award and they will be performing live in the studio ahead of a concert at the Wigmore Hall this week.
There has been much Benjamin Britten coverage in this anniversary year, but Suzy talks to singer Jamie McDermott and playwright Mark Ravenhill about a more unusual project - a re-imagining of Britten's lesser known cabaret songs. Featuring songs the composer wrote with WH Auden and newly composed numbers for the show, they'll be performing examples of each in the studio.
Plus novelist Jessica Duchen with violinist David le Page with pianist Viv McLean will be performing live in the studio ahead of their "Hungarian Dances" recital at St James Studio in London - a unique experience that unites author and soloists in an enthralling blend of words and music.
Main headlines are at 5pm and 6pm.
In.Tune@bbc.co.uk
@BBCInTune.
Music Played
Interview: The Heath Quartet

Reading: Hungarian Dances by Jessica Duchen

Interview: Author Jessica Duchen and violinist David Le Page

Interview: Mark Ravenhill and Jamie McDermott