Main content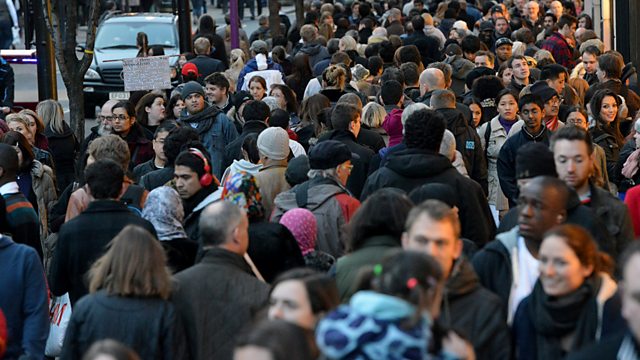 Crowds
Texts and music on the theme of crowds. With music including Handel, Grieg, Mozart, Beethoven, Elgar and Copland, plus texts including Philip Larkin, Shakespeare and Maya Angelou.
Words and Music explores our relationship with Crowds - everyday collectives, the political and the personal.
We begin with the popular experience of mass gatherings, from sporting events, to the daily commute and the fair ground. William Carlos William's majestic poem 'At The Ball Game' celebrates the festive side of crowds and hints at the potential for terror. This foreboding is embodied in Stravinsky's manipulated puppet trapped in a fairground burlesque, and Petrushka points towards the political nature of crowds. In Dicken's famous revolutionary novel 'A Tale of Two Cities', playful games outside a wine shop end with the word BLOOD painted in red wine. Shakespeare's Coriolanus addresses the mob and Aldous Huxley analyses Hitler, the ultimate manipulator of crowds, in 'Brave New World Revisited'. Verdi's Nabucco completes this section; so synonymous is it with Italian history and politics Ricardo Muti recently found his audience rising as one to join in the 'Hebrew Slaves Chorus'.
Freddie Mercury's anthem 'Someone to Love' heralds the personal nature of crowds - the pursuit of the perfect match in amongst humanity - and the sense of loneliness experienced in a crowd. We visit Gatsby's vibrant parties, glittering with emptiness; Cinderella fleeing the ball and Maya Angelou's phenomenal woman where men swarm around her like bees. Finally we end with Philip Larkin's love poem written to Maeve whilst listening to a broadcast of the concert she was attending. There are a few other crowd pleasers along the way, including music by Handel, Grieg, Mozart, Beethoven, Elgar and Copland; with additional words from Walt Whitman, Wordsworth and Garrison Keillor.
Producer, Erika Wright.
Music Played
Timings (where shown) are from the start of the programme in hours and minutes
William Carlos Williams

At the Ball Game

Walt Whitman

Leaves of Grass

National Geographic: State Fairs

Garrison Keillor

A tale of Two Cities: The Wine Shop

Dickens

Brave New World Revisited

Aldous Huxley

The Multitude

Walt Whitman

Great Gatsby

F.Scott Fitzgerald

Phenomenal Woman

Maya Angelou

Adjoa Andoh

Adjoa Andoh

William Hope

William Hope