Main content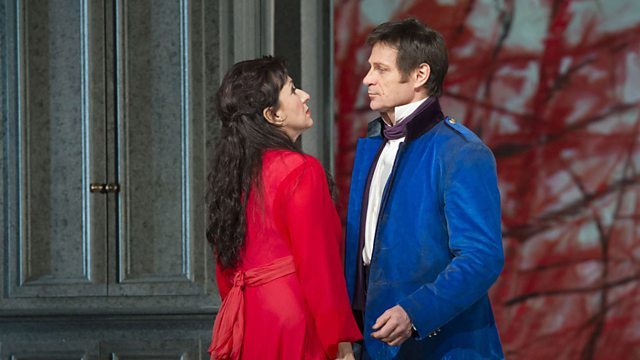 Tchaikovsky's Eugene Onegin
Launching a Royal Opera House season, Sara Mohr-Pietsch presents a performance of Tchaikovsky's Eugene Onegin, with Simon Keenlyside and Krassimira Stoyanova.
Launching our Royal Opera House, Covent Garden season Sara Mohr-Pietsch introduces a performance of Tchaikovsky's tragic opera based on Pushkin's verse novel. Stuck on a country estate, Tatyana shuns the local festivities, preferring to immerse herself in romantic novels. When a stranger, Onegin, arrives, she takes him on a walk and falls in love with him. Onegin spurns her interest after he receives a letter from her. Years pass and Tatyana marries another man, but when she meets Onegin some years later, he realises the mistake he made and though Tatyana admits to being in love with him still, she refuses to leave her husband.
Recorded earlier this year at the Royal Opera House, Covent Garden, this is Kasper Holten's first production for the ROH since taking over as Director of Opera. Krassimira Stoyanova and Simon Keenlyside star as the doomed lovers, and the young British conductor Robin Ticciati conducts.
Tatyana ..... Krassimira Stoyanova (soprano)
Eugene Onegin ..... Simon Keenlyside (baritone)
Madame Larina ..... Diana Montague (mezzo-soprano)
Filipyevna ..... Kathleen Wilkinson (mezzo-soprano)
Olga ..... Elena Maximova (mezzo-soprano)
A Peasant Singer ..... Elliot Goldie (tenor)
Lensky ..... Pavol Breslik (tenor)
Monsieur Triquet ..... Christoph Mortagne (tenor)
A Captain ..... Michel de Souza (baritone)
Zaretsky ..... Jihoon Kim (bass)
Prince Gremin ..... Peter Rose (bass)
Chorus and Orchestra of the Royal Opera House, Covent Garden
Robin Ticciati, conductor.
Synopsis
The young and romantic Tatyana wrote the dashing Eugene Onegin a letter declaring her love for him. But Onegin rejected her – he was not ready for marriage. Years later, they meet again, and old feelings are reawakened in both of them. Together they open the doors to painful memories, but have to realize that it is impossible to remake the past.
Scene 1: Madame Larina's house
Tatyana and her sister Olga are singing a love song. Their mother Madame Larina bitterly reflects with the girls' nurse Filipyevna on the naivety of youth. A group of workers on Larina's estate celebrate the harvest. Tatyana daydreams when she hears them sing; Olga teases her and describes her own easygoing attitude to life. Olga's suitor, the local poet Lensky, arrives and introduces his neighbour Eugene Onegin. There is an immediate connection between Tatyana and Onegin.
Scene 2: That night
Unable to sleep, Tatyana questions Filipyevna about her youth and early marriage. After Filipyevna has gone, she writes a letter to Onegin confessing her love for him. She feels she has seen Onegin often in dreams, even before they met, and that they are destined for each other. At dawn, she asks Filipyevna to arrange for the letter to be delivered to Onegin.
Scene 3: The next day
Tatyana waits anxiously for Onegin. When he arrives, he tells her that he was touched by her letter, but that he fears he would not be a good husband for her or anybody – although he does have warm feelings for her. He warns her to be less emotionally open in future. Tatyana is left confused and devastated.
Scene 4: Tatyana's name day party
Madame Larina is giving a party to celebrate Tatyana's name day, but Tatyana wants anything but to be the centre of attention. Onegin dances with Tatyana, but when he hears the guests gossiping about them, he starts to dance with Olga. Monsieur Triquet, an elderly Frenchman, sings a song composed by Lensky for Tatyana. Onegin continues to dance with Olga. Lensky becomes jealous and confronts Olga who laughs off his anxiety and continues to flirt with Onegin. Lensky challenges Onegin to a duel.
Scene 5: The countryside, early morning
Lensky waits for Onegin. Lensky reflects with despair on the possibility of dying an early death, and fears that all will forget him quickly. Onegin arrives with a friend, and the men prepare to fire their pistols. Onegin fires first, and kills Lensky.
Scene 6: A ball, St Petersburg
Onegin flees the memory of Lensky and travels abroad. He is haunted by his memories of Lensky and feels depressed. On his return years later, he meets his relative Prince Gremin. Gremin greets him and introduces Onegin to his wife – Tatyana. The unexpected meeting deeply upsets Onegin and Tatyana. Gremin describes to Onegin how happy Tatyana has made him. When they leave, Onegin realizes his horrible mistake in rejecting Tatyana and writes her a letter, declaring his love for her.
Scene 7: Tatyana's room in Prince Gremin's house
Tatyana and Onegin meet the next morning. Meeting again is painful for both of them. Onegin tells her he regrets everything that has happened: it is clear to him now that they are soulmates. Although Tatyana finally confesses that she shares his feelings, it is too late – she will never abandon her husband and ruin his life for her own happiness.