Main content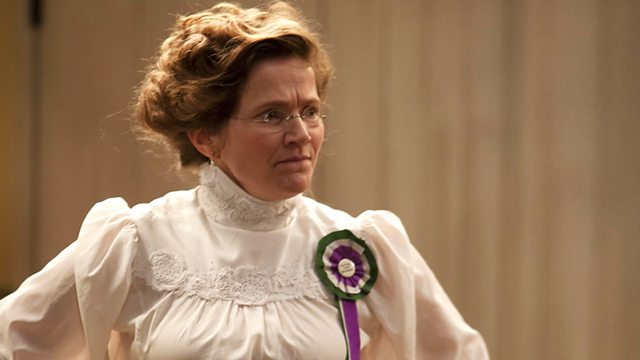 Jessica Hynes; Rubella; Rita Hayworth
Jenni Murray presents the female perspective, with Jessica Hynes on Up the Women, fears of a rubella outbreak, and the influence of screen goddess Rita Hayworth as a role model.
Jessica Hynes on her new comedy called 'Up the Women' based on the Suffragette Movement.
What was Rita Hayworth's importance as a screen icon, and what is her influence as a role model?
Following the measles epidemic in Wales, health officials are now warning there could be an outbreak of rubella. Dr Marion Lyons Director of Health Protection for Public Health Wales explains why it is vital that young women in particular should ensure they are protected against the disease.
Facebook will now change their systems after a campaign highlighted the violent and misogynistic content posted on their site. Laura Bates, founder of Everyday Sexism gives her reaction.
And author Kate Manning on 'My Notorious Life'; the story of an angry young orphan of Irish immigrants, who grows up to be the most successful, and controversial, midwife of her time.
Chapters
Jessica Hynes – Up the Women

Jessica Hynes on her new comedy called 'Up the Women' based on the Suffragette Movement.

Duration: 08:08

Campaign against sexism on Facebook

Facebook will change system after campaign highlights violent & misogynistic posts on site

Duration: 06:34

Rubella

Welsh health officials warn there could be an outbreak of rubella.

Duration: 05:47

Kate Manning

Author Kate Manning on her latest book 'My Notorious Life by Madame X'

Duration: 10:23

Rita Hayworth

Rita Hayworth's importance as a screen icon, and what is her influence as a role model?

Duration: 05:16

Jessica Hynes – Up the Women

Jessica Hynes created, co-wrote and starred in the Channel 4 comedy Spaced with Simon Pegg, which was partly based on her own experiences of living in a squat. Since then she's been in a number of roles but she is probably best known for playing Siobhan Sharpe, the hapless PR manager of the Olympic Deliverance Authority in the BBC series 2012. Now Jessica has written and starred in a new comedy, Up the Women, which is based on the Suffragette Movement.

Rubella

More than thirteen hundred people have contracted measles in the Wales epidemic, yet 33,000 children aged between 10-18 have not yet taken up the MMR vaccine.  Now health officials are warning there could be an outbreak of rubella. Although there has not been a single case of Rubella in Wales since 2004, Public Health Wales says it could easily be brought in by people who have not been vaccinated travelling to countries where the infection is endemic.  Dr Marion Lyons Director of Health Protection for Public Health Wales joins Jenni to explain why it is vital that young women in particular should ensure they are protected against rubella.

 

Campaign against sexism on Facebook

Facebook has responded to the open letter which Laura Bates, founder of Everyday Sexism, recently posted on the Women, Action and the Media website. Bates and two other objectors spearheaded a campaign calling on Facebook to crack down on content which promotes violence against women on the site. Laura demanded for Facebook to recognise any speech that glorifies violence against women as hate speech, and to make a commitment not to tolerate this. The campaign has already seen Nissan and Nationwide pull their ads from the networking site. On May 28th Facebook announced that they will work with the campaigners and re-evaluate how they identify and remove gender-based hate.

Kate Manning

Set in 19th Century New York and based on a true story, My Notorious Life by the author Kate Manning, follows the life of an angry young orphan of Irish immigrants, who grows up to be the most successful (and controversial) midwife of her time. Kate joins Jenni to discuss the book, how far attitudes to 'women's business' have changed and how some of the issues at the heart of the book are still very much alive today.

Kate Manning: My Notorious Life by Madame X is published by Bloomsbury on 6th June 2013.

 

Rita Hayworth

Rita Hayworth came from a family of actors. From the age of 12, she worked as a professional dancer and at 16, she took her first acting role in Fox Film's 1935 "Dante's Inferno." She went on to make over 60 films, including Gilda with its famously erotic striptease where she removes just one glove! She married five times and was quoted as saying "Men fall in love with Gilda but they wake up with me." So what was Rita Hayworth's importance as a screen icon, and what is her influence as a role model and style guru? Arts critic and broadcaster, David Benedict and Dr Helen Hanson from the University of Exeter discuss.

Rita Hayworth season of films at BFI: 1-30 June

 

Credits

| Role | Contributor |
| --- | --- |
| Presenter | Jenni Murray |
| Interviewed Guest | Jessica Hynes |
| Interviewed Guest | Laura Bates |
| Interviewed Guest | Marion Lyons |
| Interviewed Guest | Kate Manning |
| Producer | Shoku Amirani |
| Editor | Karen Dalziel |