Main content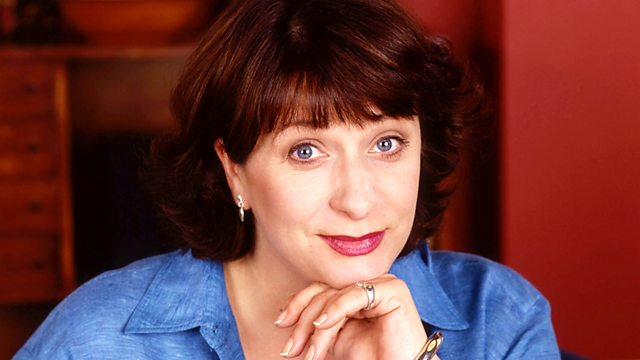 Historian Brian Lavery; Caroline Quentin's Inheritance Tracks
Richard Coles and Sandi Toksvig with maritime and naval historian Brian Lavery, the Inheritance Tracks of Caroline Quentin, and tales of adventure from the South Pole to Everest.
Richard Coles and Sandi Toksvig with maritime and naval historian Brian Lavery, the Inheritance Tracks of Caroline Quentin, the sound of Anita Tedder's coffee grinder, Harriet Tuckey talking about her father's unsung and pivotal role in the 1953 Everest expedition, Jake Wilson who played songs inspired by Captain Scott's diary in the actual hut Scott and his team set off from on their South Pole adventure, John McCarthy exploring the hidden tunnels and grottoes of Dewstow Gardens near Chepstow and Iain MacNeil, a former mariner and current MD of the oldest English language publishers in the World- Witherbys.
Producer: Chris Wilson.
Last on
STUDIO GUEST :: BRIAN LAVERY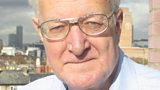 Brian Lavery is a British Naval and Maritime historian, author of over 30 books and was consultant on the blockbuster film, 'Master and Commander: the Far Side of the World'. His latest book is 'The Conquest of the Ocean: The Illustrated History of the Seafaring'. Brian talks about his professional life, our great maritime traditions and his love of sailing round the British coast.
INHERITENCE TRACKS :: CAROLINE QUENTIN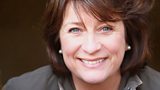 MY FATHER THE UNSUNG HERO OF EVEREST :: HARRIET TUCKEY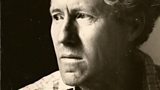 Harriet Tuckey is the daughter of Griffith Pugh, doctor, physiologist and mountaineer- and the largely unsung member of the 1953 Everest expedition who many now say was central to the success of the ascent. Harriet had a difficult relationship with her father and didn't realise his importance until very late in his life. She talks about his role in the expedition and how her view of him has changed since she found out more about him and his work. 29 May 2013 is the 60th anniversary of New Zealand mountaineer Sir Edmund Hillary and Nepalese Sherpa Tensing Norgay becoming the first people to reach the summit of Mount Everest, the world's highest peak.
Everest - The First Ascent: The untold story of Griffith Pugh, the man who made it possible, by Harriet Tuckey, is available now.
Photo by Colin Rogal.
SONGS ON CAPTAIN SCOTT :: JAKE WILSON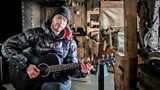 Jake Wilson was fascinated by Captain Robert Falcon Scott's diary and the letters his team wrote when it became clear they were probably not going to survive the return journey from the South Pole. Jake wrote a series of songs based on the letters and diaries and performed them in March in the actual hut where Captain Scott and his team lived and worked before setting out for the South Pole. Jake talks about his journey, the songs and the special graphite guitar that enabled him to play in temperatures as low as -20c.
Visit Jake's website to watch him perform "All's Well" in Captain Scott's Hut.
TRAVEL :: DEWSTOW GARDENS WITH JOHN MCCARTHY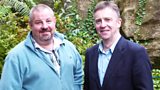 WITHERBYS :: THE OLDEST ENGLISH LANGUAGE PUBLISHING HOUSE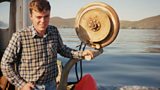 Witherbys is the oldest English language publishers still operating. One of its specialisms is the publication of maritime navigation manuals. The MD, Iain MacNeil, is an ex mariner and now runs the business in Livingstone near Edinburgh. He talks about his journey from lobster pots to publishing house.
SOUND SCULPTURE :: COFFEE GRINDER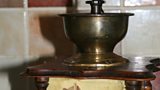 Anita Tedder inherited a coffee grinder from a Great Aunt in Belgium. She talks about the sound it makes and the memories it evokes.
STUDIO PHOTO :: HARRIET TUCKEY, SANDI, RICHARD, JAKE WILSON, BRIAN LAVERY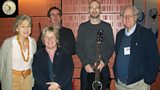 RICHARD'S BLOG :: PUPPY LOVE AT THE VICARAGE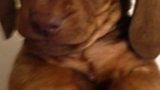 I don't quite know how it happened but we seem to have acquired a third miniature dachshund. I blame the internet. I mentioned the other day that I couldn't imagine living now without dogs and my partner took this as a green light to start looking for a third to join Daisy Mumu and Willy Pongo on the grounds that it is sensible to space out dogs so that you have sufficient supply to ensure a full complement bearing in mind the depredations of age. "We MUST refresh the base", he said, and the mouse skittered and clicked across his Ugly Betty mousemat.
That digital path led to a nine week old miniature smooth red dachshund bitch whose picture is so affectingly cute that people we've shown it to have all fallen to the ground in a swoon. I rehearsed the usual arguments against, for about a nanosecond, before succumbing myself, and so in a couple of days we're off to Berkshire to pick her up and bring her home. We've got this down to a fine art now and the new arrival should settle in without too much aggro. There is one outstanding matter, however - the name. We called the first two Daisy and Willy because we couldn't agree on one, my preference being for characters from the Music Dramas of Richard Wagner, my partner's for saints of England. We could have ended up with a Flosshilde and a Bugga had not our veto system kicked in and in the end, unable to agree, we stuck with the names the breeder had given them. This time, however, I have the advantage,  for the dog was chosen on Wagner's 200th birthday, and my proposal – Freya (goddess of love, youth and beauty) – is a name you could shout in the park without embarrassment. He quite likes it, but has countered with Audrey, a name derived from St Ethelreda of Ely. Audrey or Freya? Freya or Audrey? I might ask Sandi Toksvig to adjudicate, who is sitting in for Sian this week, in the expectation that her Nordic heritage will nudge her in the direction of Freya. We'll also be entertaining Brian Lavery, maritime historian and the man who shivered the timbers for the film 'Master and Commander'. We meet too a woman who only found out very late in his life that her distant and irascible father's role in the 1953 Everest Expedition was absolutely central  to its success. We hear from a musician who performed his songs based on the diaries of Captain Scott in the Antarctic hut in which he died and we visit the oldest English language publishers in existence.
All these, plus the Inheritance Tracks of Caroline Quentin and John McCarthy rambles through a lost garden in Chepstow.
Join us on Saturday at nine.
Credits
| Role | Contributor |
| --- | --- |
| Presenter | Richard Coles |
| Presenter | Sandi Toksvig |
| Interviewed Guest | Brian Lavery |
| Interviewed Guest | Caroline Quentin |
| Producer | Chris Wilson |
Broadcast