Main content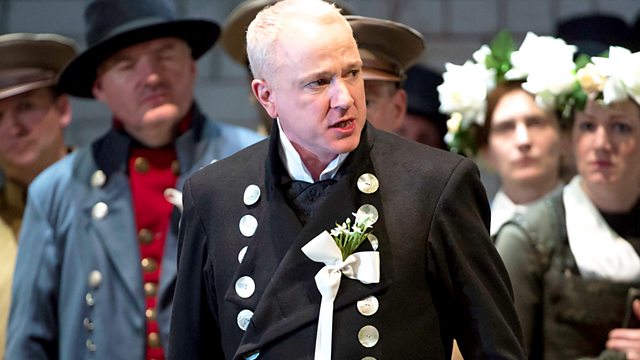 Wagner 200 - Lohengrin
Live from the Wales Millennium Centre, Cardiff, Donald Macleod introduces Wagner's epic fairytale Lohengrin, in a new production from Welsh National Opera. With tenor Peter Wedd.
Wagner 200: Donald Macleod and theatre historian Sarah Lenton introduce Wagner's epic fairytale Lohengrin, live from the Wales Millennium Centre in a new production by Antony McDonald for Welsh National Opera. Described as the composer's 'Romantic opera', Lohengrin transports us to the tenth century where themes of chivalry, love and redemption collide. In the first interval there'll be a Radio 3 Music Guide to the opera, available also as a free download.
3.00 - Act 1
4.00 - Interval
Nicholas Baragwanath explores the issues of longing and distance which fill the work, with contributions from singer Petra Lang and conductor Semyon Bychkov.
Plus there's a journey backstage with the costume department of WNO where slick teamwork and planning are required to reclothe panting opera stars in a matter of minutes
4.30 - Act 2
6.00 - Interval
Could Wagner ever have been a great symphonist? Composer Matthew King is convinced he could have been, so much so that he's attempting to create a work based on a handful of late sketches. Donald Macleod meets him to discover whether the fragments might be clues to a Wagnerian revolution in symphonic music.
6.30 - Act 3
Lohengrin ..... Peter Wedd (tenor)
Elsa ..... Emma Bell (soprano)
Ortrud ..... Susan Bickley (mezzo-soprano)
Friedrich von Telramund ..... Claudio Otelli (baritone)
Heinrich ..... Matthew Best (bass)
Chorus and Orchestra of Welsh National Opera
Lothar Koenigs (conductor).
Synopsis
Elsa stands accused of the murder of her younger brother. She is saved by the appearance of a mysterious Knight. He tells her that he will love and protect her but that she must never ask his name or where he comes from. Ortrud and Telramund convince Elsa that she must find out who he is. She is unable to resist asking the forbidden question and the Knight leaves as mysteriously as he arrived.
Act I
King Heinrich of the Germans has come to Brabant to recruit fighting forces, as Germany is under threat. He finds Brabant in turmoil. Friedrich von Telramund, the appointed regent of Brabant and guardian to Elsa and Gottfried, the late Duke's children, tells the King that Gottfried has disappeared. Telramund suspects Elsa of having murdered her young brother and adds that, although the late Duke had promised him Elsa's hand in marriage, her crime has so appalled him that he has instead married Ortrud. Together they now claim the throne of Brabant.
The King summons Elsa. She confesses that, grieving for her lost brother, she prayed for help and was visited by a vision of a Knight who promised to defend her. The King proposes a trial by combat. Telramund accepts, but who will champion Elsa? She calls upon her Knight and, at the third summons, he appears. He asks Elsa to entrust herself to his protection and to marry him if he is victorious. Elsa agrees. There is one condition: Elsa must never ask the Knight's name or where he comes from. The Knight wins the fight, sparing Telramund's life.
Act II
Telramund and Ortrud have been excluded from the festivities taking place to celebrate Elsa's wedding to the mysterious Knight. Telramund blames Ortrud for having lied to him about Gottfried's supposed murder. Ortrud ridicules Telramund for believing that God has protected Elsa's innocence –she believes in older and darker gods. She tells him that the Knight is under a protective spell, which can be broken the moment he is wounded, however slightly. Elsa appears and takes pity on Ortrud, who begins to sow the seeds of doubt in her mind –should Elsa not know where the Knight comes from and who he is before marrying him?
A herald proclaims that Telramund is banished and the Knight is appointed Protector of Brabant. As the Knight leads Elsa to the marriage ceremony, Ortrud interrupts the procession to demand that his true identity should be revealed. Telramund whispers to Elsa that she should let him wound the Knight, even if only his fingertip, so that his secrets will be made clear. He promises to stay close by in case she needs him.
Act III
Elsa's happiness with the Knight is destroyed by her nagging doubt. She is unable to resist asking his name and where he comes from. Telramund breaks in to attack and is killed. The Knight orders Telramund's body to be taken to King Heinrich and tells Elsa that at daybreak her questions will be answered and his identity revealed to all.
The King and his forces wait for the new Protector of Brabant and prepare for combat. The Knight tells them that he can no longer lead them into battle and that he must return to where he came from. He reveals that he comes from Monsalvat, in a far-off land. He is Lohengrin, son of Parsifal, and one of the Knights of the Holy Grail, which they protect and which brings them strength and goodness. These Knights go out into the world to perform deeds of chivalry, but must return once their identity is known. Now he must depart, leaving Elsa in despair. Ortrud exults but her powers are broken when the lost Gottfried is evealed and restored to Brabant as its new leader.