Main content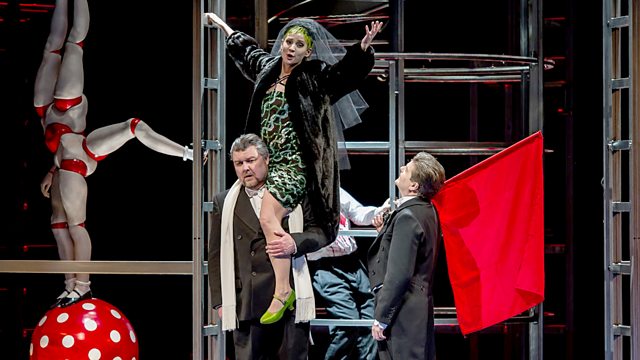 Berg's Lulu
Louise Fryer presents David Pountney's new production of Alban Berg's Lulu in a performance given at Welsh National Opera. With Marie Arnet and Ashley Holland.
Alban Berg's "Lulu"
Presented by Louise Fryer.
The first of two visits this weekend to Welsh National Opera, for a recording of David Pountney's brilliant new production of Alban Berg's operatic swansong, "Lulu". Unfinished on Berg's death in 1935, tonight's performance includes the British broadcast premiere of Eberhard Kloke's recent completion of the final act. Soprano Marie Arnet debuts in the title role, with baritone Ashley Holland as the darkly complex Dr. Schön. Lothar Köenigs conducts.
Animal Tamer/Schigolch... Richard Angas (bass)
Alwa ... Peter Hoare (tenor)
Dr. Schön ... Ashley Holland (baritone)
Lulu ... Marie Arnet (soprano)
Artist/Negro ... Mark Le Brocq (tenor)
Professor of Medicine ... Michael Clifton-Thompson (tenor)
Prince/Manservant/Marquis ...Alan Oke (tenor)
Wardrobe Mistress/Groom/Schoolboy ... Patricia Orr (mezzo soprano)
Theatre Manager/Banker ... Nicholas Folwell (baritone)
Countess Geschwitz ... Natascha Petrinsky (mezzo soprano)
Acrobat ... Julian Close (bass)
Journalist ... Alastair Moore (baritone)
Servant ... Julian Boyce (tenor)
Designer ... Louise Ratcliffe (mezzo soprano)
Mother ... Jessica Handley Greaves (mezzo soprano)
15-year old girl ... Anitra Blaxhall (soprano)
Police Commissioner ... Simon Crosby Buttle
Clown ... Jasey Hall
Stagehand ...George Newton-Fitzgerald
Onstage musicians ... Heather Badke-Hohmann (violin), David Doidge (piano), Mario Conway (accordion)
Chorus and Orchestra of Welsh National Opera
Lothar Koenigs (conductor)
Berg's sumptuous score breathes life into one of opera's most fascinating characters. "Lulu" is a woman with a troubled past and a fatally irresistible appeal to men. Set in the 1920s, infused with elements of burlesque, surrealism and jazz, Berg's adaptation of Wedekind's plays is a mixture of tragedy and farce. Lulu is a seductress and a murderess who uses sex with a succession of men to attain social advancement. Ultimately downfall follows her ascent up the social ladder. Reduced to prostitution, this twentieth century free-spirit meets a brutal death at the hands of Jack the Ripper.
Synopsis
The Animal Tamer invites the audience to view the inhabitants of his menagerie.
Act I
Lulu is posing for the Artist, observed by her lover Dr Schon. Left alone with her, the Artist tries to seduce Lulu. Her husband, the Professor of Medicine, surprises them and collapses from a heart attack. Lulu is now a rich widow.
Lulu and the Artist have married. She is disturbed to learn that Schon has become engaged. Schigolch, like Dr Schon, is in some way involved in Lulu's past –he pays her a visit and she gives him money. Schon came across Lulu as a child, selling flowers outside a cafe, and brought her up to be his mistress. Now that his wife is dead, (possibly poisoned by Lulu), he wants to be free of her so that he can make a second, respectable marriage. The Artist is horrified to learn that his relationship with Lulu is just an arrangement of convenience for Schon, and kills himself. Schon hopes to avoid a scandal and Lulu assures him that, regardless of his other plans, he will marry her.
Schon's son, Alwa, a composer, has created an entertainment in which Lulu will perform. He has fallen in love with her, as has the Prince. From the stage, Lulu sees Schon together with his fiancee in the audience and refuses to continue her performance. Having created a public furore, she forces Schon to follow her dictation and write a letter breaking off his engagement.
Act II
Schon and Lulu are now married but she continues to attract admirers, including the Countess Geschwitz, a Schoolboy, an Acrobat and the Servant. Schon ostensibly leaves for work, but returns to discover the mysterious Schigolch is in his home, together with the menagerie of admirers, including his son, Alwa. Disgusted at the state to which she has reduced his life, Schon attempts to force Lulu to shoot herself, but she shoots him instead and is arrested.
An orchestral interlude depicts the time that passes during Lulu's trial for murder, her subsequent imprisonment and commitment to hospital with suspected cholera.
The Countess Geschwitz allows herself to be infected with cholera and takes Lulu's place in the hospital. Schigolch brings Lulu secretly back to Schon's house, where the Acrobat threatens to denounce her to the police. Alwa makes love to Lulu and they resolve to flee to Paris together.
Act III
Lulu and Alwa are at a casino where most of the guests have invested in Jungfrau Railway shares and are excited by their sharp rise in value. The Marquis tries to blackmail Lulu into working in a brothel. Both the Acrobat and Schigolch attempt to extort money from her. Lulu and Schigolch plot to dispose of the Acrobat by using Geschwitz as bait.
There is uproar as the news spreads that the Jungfrau shares have collapsed. In the general confusion, Lulu and Alwa make their escape.
In London, Lulu is working as a prostitute and sharing living quarters with Schigolch and Alwa, who is syphilitic. They hide when she returns with her first client (an echo of the Professor of Medicine). Geschwitz appears, bringing with her the image of Lulu made by the Artist. A second client (the Artist) is interrupted by Alwa and attacks him. The third client (Dr Schon) is Jack the Ripper. Lulu argues with him over money. He butchers her and leaves Geschwitz for dead.