Main content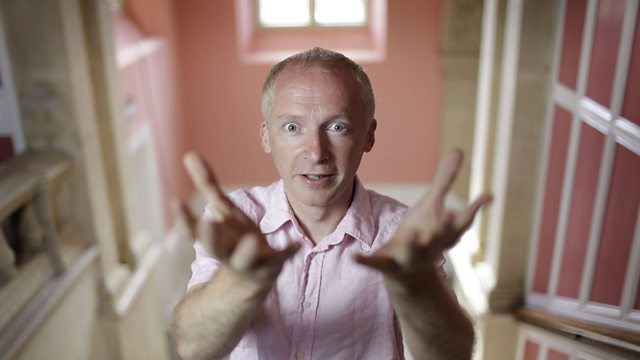 21/05/2013
Ahead of his appearance at the Hay Festival, mathematician Marcus du Sautoy joins Adam Walton to explain how maths is at the heart of nearly everything we do.
Last on

Marcus du Sautoy
Marcus Du Sautoy doesn't fall into any of the stereotypes you might imagine for an Oxford University Professor of Mathematics. He's a surfer, a trumpeter and an ardent fan of Arsenal Football Club. But his great passions are prime numbers, patterns and symmetry.
Ahead of his appearance at the Hay Literary Festival, he talks to Adam Walton about the importance of numbers and patterns in everyday life. He explains why prime  numbers, for instance, are favoured by successfull footbal players. With his 'maths glasses on' he tells Adam how he enjoys music and art all the more because he recognises the mathematical sequences and patterns behind the work.
Links:
Adam goes down to the woods today for a few surprises.
There's a real battle going on in Wales' woodland. Our native trees are fighting pests and disease including Ash dieback, Oak decline, Pine weevil and different strains of the deadly phytophthora fungus in both Larch and Juniper. In Science Café this week, Adam Walton travels to an affected forest in Tal Y Bont on Usk, near Brecon, to talk to Prof Hugh Evans, the head of Forest Research in Wales, about the scientific research being done to counter the threats. Chris Jones, a senior tree protection manager with Natural Resources Wales, gives a clearer picture of some of the problems on the ground and Dr Trevor Dines, of Plantlife Cymru, tells Jeremy Grange about a plant scheme that could safeguard the gin industry.<?xml:namespace prefix = o ns = "urn:schemas-microsoft-com:office:office" />
Useful Links:
OPAL - http://www.opalexplorenature.org/
Pine Weevil – http://www.swansea.ac.uk/science/news/naturesanswertodeadlytreepestispayingoffintheuplandsofwales.php
Natural Resources Wales - http://naturalresourceswales.gov.uk/our-work/news/natural-resources-wales-steps-up-fight-against-larch-disease/?lang=en
Saving Juniper/Plantlife - http://www.plantlife.org.uk/wild_plants/work/savingjuniper/
Broadcasts