Main content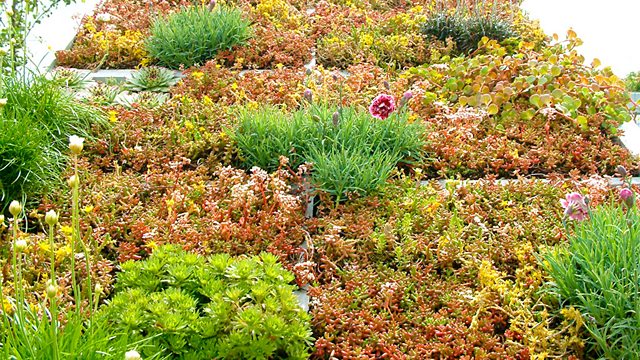 Chelsea Fringe
Eric Robson chairs this special edition of GQT with members of the Chelsea Fringe, London. Bob Flowerdew, Bunny Guinness and Matthew Wilson answer the audience questions.
Eric Robson chairs this edition of GQT with members of the Chelsea Fringe, London. Bob Flowerdew, Bunny Guinness and Matthew Wilson are on the panel answering the audience's questions.
And listen out for a special musical interlude dedicated to GQT by one of the Chelsea Fringe's comedy acts, Can You Dig It?
Produced by Howard Shannon.
A Somethin' Else production for BBC Radio 4.
Questions answered this week:
Q. I recently found police horse manure on the street, how would the panel recommend I treat it before using it for a small front garden?
A. The horse was probably kept inside on a high-protein diet which may have affected the manure, so it should be composted down before use. You can do this by putting it in a compost heap, preferably well mixed up with some shredded paper or straw, as it will be a bit solid on its own, then leave to rot down before use. You could also do a liquid feed. It's a good idea to test the manure on a patch of grass first to measure whether it needs more water before you use it for the whole garden.
Q. What is the correct pruning method for Lavender Munsted year after year to keep them nice and compact and limit the 'blackening' you get at the base?
A. Prune as soon as they finish flowering, which is usually mid August, and never in spring. The next year's flower buds will have just begun to form, you can take these off and reduce the vigor of the Lavender. If you wanted to grow it as a hedge it needs to be pruned more often, probably around 4 or 5 times a year, all through the year. Lavender loves well drained soil which could mean more grit needs to be added if it's grown in a clay soil. Alternatively you could leave the dead heads on the plant as a way to keep the frost off in the winter.
Q. Does the panel have any suggestions for flowering plants that can survive the occasional accident such as being knocked or stepped on? This is for planting around trees in the street and ideally need to be long lived plants with spreading root systems.
A. Creeping thymes are quite durable with lovely flowers. Low hedges would look nice, and work well around trees. For protection you could also use some small fencing around it for the first growing season. This could be a good spot for plants such as Shasta Daises, Saponaria, Groundelder that have previously been vilified in gardens for being too "aggressive".
Q. I have a Camellia Sinensis in a small pot, almost a metre wide, in a north-east facing garden. It has been fine for the last fifteen years with hardly any attention apart from watering. However, this is the first year it hasn't flowered. Should I change the compost? And it is possible to make tea from the leaves?
A. Camellias are surprisingly tough plants and all of them have flowered late this year. However, after fifteen years it's probably time for you to re-pot it for its general health. Plants can often flower before they die and this is a common problem for gardeners. You could use the leaves for tea but it's an acquired taste, the flavour is determined by where it is grown and is best in cool damp areas.
Q. For the first time in 10 years I am without a garden as I have just moved into a flat. Can the panel suggest any house plants that would thrive in a chilly north facing bedroom or a warm south facing lounge?
A. The Swiss Cheese plant (Monstera Deliciosa) would work in either room. This plant fruits with something that looks like a pine cone and tastes like a cross between a banana and pineapple. If planted in a good conditions, with a lots of water and sunshine in a large pot, it can thrive. The friendship plant (Billbergia Nutans) has gorgeous flowers and also do very well in a large pot or hanging basket.
Q. What would work on a north-facing, cold and windy balcony to cover up the metal railings? Preferably something that doesn't need to be watered too often.
A. Christmas trees are durable and can stand a little neglect. Clematis Armandii are recommended for south facing spaces but do grow on north facing walls, they do well in soil and smell great this time of year. Trachelospermum is a neater evergreen plant that you could thread through the bars. Alternatively, Ivy would be great for this space with its durable glossy leaves.
Last on
Can You Dig It?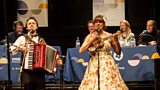 Jo Stephenson and Dan Woods perform their tribute to GQT as musical-comedy duo Can You Dig It?
Broadcasts