Main content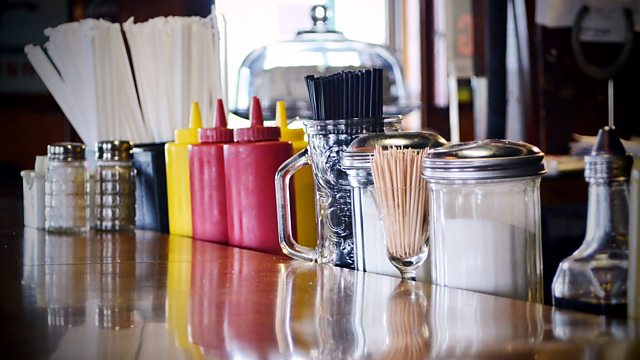 Young Cody's jealousy of his placid younger brother Ezra accelerates. Fractured Baltimore family drama starring Barbara Barnes.
By Anne Tyler dramatised by Rebecca Lenkiewicz
Episode Two - Teaching the Cat to Yawn
Young Cody's jealousy of his placid younger brother Ezra accelerates.
Director: David Hunter
Dinner at the Homesick Restaurant tells the story of two brothers and a sister deserted by their father, raised by their angry mother, moving through the calamities and exultations of their difficult youth into separate strategies for survival, and finally into a shared humanity.
The place is Anne Tyler's Baltimore. The story is Pearl's, her short-lived romance and late marriage to "flamboyant" travelling salesman Beck Tull and her attempt to keep the family together after he leaves. We see her three children pummelled into adulthood through her excesses of maternal energy and spurts of terrifying rage.
Cody, wild and incorrigible is driven to cruel domination over his brother Ezra and is ultimately possessed by the lure of power and money. High-spirited, hard-working Jenny becomes a paediatrician, nurturing strangers as she becomes more and more inaccessible to those close to her. Ezra, his mother's favourite (and Anne Tyler's most enduring character) has a dream of a homesick restaurant "where people come just like to a family dinner" - except that whenever his own family gathers at his restaurant the meal is always left unfinished, appetites dissipated in squabbles and tempests.
There are elements of this family tragedy that we all recognise, details that ring sharply true and characters that are both truthful and entertaining.
HER NAKED SKIN by Rebecca Lenkiewicz was the first play to be performed on the Olivier stage by a living female playwright. THE NIGHT SEASON won the Critics Circle Theatre Award for Most Promising Playwright. SARAH AND KEN (Drama on 3) was awarded a special commendation at the 2012 BBC Audio Drama Awards. Other radio work includes CARAVAN OF DESIRE and BLUE MOON OVER POPLAR.
There is a synergy between Rebecca and Anne Tyler - a common precision of language, an understanding of character, a shared angle on the poetry of language and image and a similar sense of fascination with the quirky and the offbeat.
Credits
| Role | Contributor |
| --- | --- |
| Pearl | Barbara Barnes |
| Narrator | Lorelei King |
| Young Cody | Max Baldry |
| Young Ezra | Richard Linnell |
| Young Jenny | Eloise Webb |
| Director | David Hunter |
| Producer | David Hunter |
| Author | Anne Tyler |
| Adaptor | Rebecca Lenkiewicz |