Main content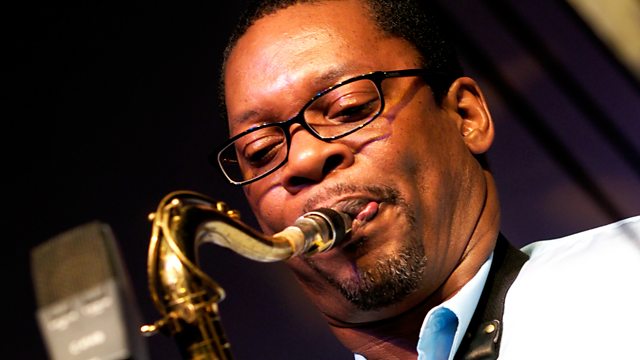 Ravi Coltrane Quintet
Jez Nelson presents a performance by saxophonist Ravi Coltrane and his quintet at the 2013 Cheltenham Jazz Festival. With Ralph Alessi (trumpet) and David Virelles (keyboard).
Saxophonist Ravi Coltrane's 'Spirit Fiction' was hailed as one of last year's best records - this performance by his quintet at the Cheltenham Festival is a chance to hear why. The band features some of the most versatile and inventive players on the US East Coast circuit, enabling Coltrane to mix grooving postbop with looser, more free-ranging interaction. It includes one of his longest-standing collaborators, trumpeter Ralph Alessi, and young-gun keys player David Virelles, who has caused a stir playing with the likes of Steve Coleman in recent times. The music is by turns punchy and delicate, as 'in' as it is 'out', lending Coltrane a voice quite distinct from either of his parents.
Presenter: Jez Nelson
Producers: Peggy Sutton & Phil Smith.
Music Played
New Release

Ravi Coltrane Quintet Recorded at the Jazz Arena, Cheltenham Jazz Festival on 5 May 2013

Untitled

Ravi Coltrane (saxophone); Ralph Alessi (trumpet); David Virelles (keyboards, piano); Drew Gress (bass); Eric McPherson (drums)

Jez Nelson talks to Ravi Coltrane

Ravi Coltrane Quintet Recorded at the Jazz Arena, Cheltenham Jazz Festival on 5 May 2013

John Zorn and Pat Metheny in conversation on Stuart Maconie's Freakzone (BBC 6 Music)

Nathaniel Facey interviews Branford Marsalis