Main content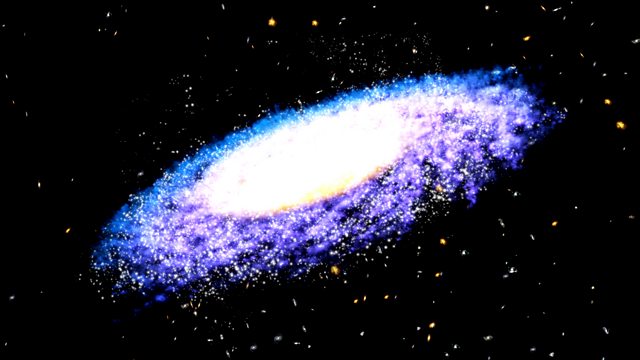 Lee Smolin, Mafia, Not I, Inconceivable
Presented by Samira Ahmed. With physicist Lee Smolin talking about his new book, a debate on whether Italy is a mafia republic, and discussing Samuel Beckett's play Not I.
Lee Smolin is a controversial and prominent figure in the field of theoretical physics. His books over the last decade are hand grenades thrown directly into the public arena and 'Time Reborn: From the Crisis in Physics to the Future of the Universe' is no exception. Here he offers a set of principles to guide the search for a new kind of theory that can be applied to the whole universe, which means challenging the way we experience time.
Is Italy a Mafia republic? Samira is joined in discussion by the acclaimed Mafia historian John Dickie who argues that organised crime is embedded in the workings of the Italian state, by the Italian political journalist and film-maker Annalisa Piras, and by Clare Longrigg, the author of "Mafia Women".
The stage is in darkness except for a mouth visible about eight feet above stage level, 'emitting' a stream-of-consciousness account of a life. Samuel Beckett's 'Not I' received its European premiere 40 years ago at the Royal Court Theatre in London. To mark the anniversary the theatre is staging the piece again, performed by Lisa Dwan. Lisa joins Samira, along with Derval Tubridy, author of several studies of Beckett's work, to discuss a text Beckett said he wanted to 'work on the nerves of the audience, not its intellect'.
Last on

Chapters
Italian Mafia

Samira Ahmed and guests discuss whether the mafia is embedded within the Italian state.

Duration: 16:16

Lee Smolin

Lee Smolin supports the search for new theories that challenge the way we experience time.

Duration: 13:16

Inconceivable

Philosopher Julian Baggini reflects on conceiving the inconceivable.

Duration: 04:29

Not I

Lisa Dwan and Derval Tubridy discuss Samuel Beckett's landmark one-woman piece.

Duration: 10:01

Not I

Samuel Beckett's landmark one-woman piece Not I is on at the Royal Court Theatre, London 21st - 25th May.

Photograph © Allan Titmuss

 

Lee Smolin

Time Reborn: From the Crisis of Physics to the Future of the Universe by Lee Smolin is published by Allen Lane.

Broadcast