Main content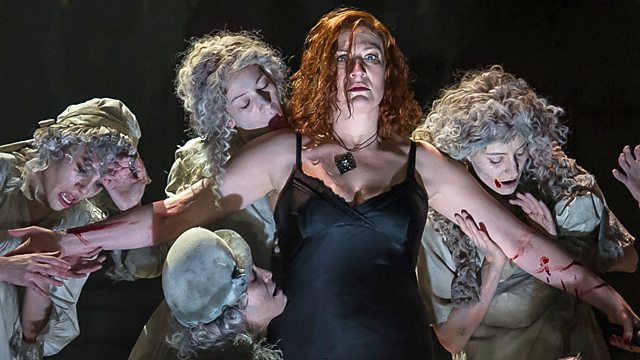 Charpentier's Medea
Donald Macleod presents Charpentier's Medea performed at ENO, with Sarah Connolly, Jeffrey Francis, Brindley Sherratt, Katherine Manley and Roderick Williams.
Donald Macleod presents Marc-Antoine Charpentier's Medea at the London Coliseum in a new production for English National Opera by David McVicar. Sarah Connolly sings the title role, as the vengeful sorceress willing to sacrifice her own children to avenge her faithless husband Jason, performed by tenor Jeffrey Francis. Christian Curnyn conducts the chorus and the orchestra of English National Opera.
Medea.....Sarah Connolly (mezzo-soprano)
Jason.....Jeffrey Francis (tenor)
Creon.....Brindley Sherratt (bass)
Creusa/Phantom I.....Katherine Manley (soprano)
Orontes.....Roderick Williams (baritone)
Nerina.....Rhian Lois (soprano)
Cleonis/Cupid......Aoife O'Sullivan (soprano)
Arcas/Vengeance......Oliver Dunn (baritone)
Corinthian/Jealousy......John McMunn (tenor)
Italian woman/Phantom II.....Sophie Junker (soprano)
Corinthian/Argive.....Jeremy Budd (tenor)
Cupid's captives...... Aoife O'Sullivan (soprano)
Sophie Junker (soprano) and John McMunn (tenor)
Chorus and Orchestra of English National Opera
Christopher Curnyn, conductor.
Synopsis
In order to regain his stolen throne and birthright, Jason has sailed to Colchos in the Argo to retrieve the Golden Fleece from its sacred shrine. The Colchon princess (and sorceress) Medea has fallen in love with him and aided him in his quest through use of magic arts and murder. Returning with him to his native Thessaly, she has killed the usurping King Pelias. Pursued by his avenging son, Acastus, the couple have fled with their two young sons to Corinth, kingdom of Creon and his daughter Creusa.
Act I
Medea fears that Jason's love is waning. He has paid court to the princess Creusa in order to win the favour and protection of her doting father, but Medea tells her confidante, Nerina, that she suspects the liaison has become no mere dalliance. Jason enters and dismisses her suspicions but asks her for a beautiful golden dress to give to Creusa. Left alone with his confidant Arcas, Jason admits the extent of his true feelings for Creusa. Arcas begs him to be mindful of the vengeful nature and magic powers of Medea. Creusa is betrothed to Prince Orontes of Argos, whose alliance Creon needs in the war that looms with Acastus of Thessaly. Although promised to Orontes, Creon tells Jason that Creusa shall be his once the battle is won. Orontes arrives, eager to meet his bride and commits his army to Corinth's defence. The Corinthians celebrate the union of Venus and Mars.
Act II
Creon tells Medea that, for the safety of the realm and to calm the animosity of his people, she must be exiled for the duration of the war, leaving Jason and her children behind in Corinth. She protests that her crimes have all been for the sake of Jason but Creon orders her to be gone by the end of the day. She places her children in Creusa's care and leaves. Alone together, Creusa and Jason declare their love but their tryst is interrupted by Orontes, who has prepared an entertainment to illustrate the sincerity of his passion for the princess. Captives of Love enter, pulling the chariot of Cupid, who urges Creusa to accept Orontes' hand without further delay.
Act III
Orontes promises Medea refuge in the land of Argos if she aids him in speeding the wedding to Creusa. She tells him her suspicions of the love between Jason and Creusa and that her banishment is a pretext to enable their marriage. They vow to support each others cause. Orontes leaves and Jason comes to bid Medea farewell. She begs him not to let her wander alone without him, but he argues the necessity of war, his allegiance to Creon and the good of their children. He leaves and Medea sadly contemplates her fate. Nerina confirms her suspicions, telling Medea that Arcas has confessed to her the full extent of Jason's plan to wed Creusa and reign in Corinth. Medea forces her from the room and summons her powers, unleashing the spirits of Jealousy and Vengeance. Demons arise and aid her as she casts a spell and poisons the golden dress destined for Creusa.
Act IV
Creusa's confidante Cleonis and Jason admire Creusa's beauty in the golden dress of Medea. The lovers steal a few moments together before Orontes arrives, giving vent to his angry suspicions. He is convinced of the truth of Medea's words, but Medea appears, vowing that Creusa shall never be Jason's bride. She orders him to leave her as she contemplates, trembling, the course her revenge must now take. Creon and soldiers enter. He is angry to find her within his palace and orders them to take her away. Medea casts another spell, disarming the guards and summoning the spirits of beautiful women to enchant the senses of Creon. Creon is driven insane by the vision and runs away, wildly through his palace.
Act V
Nerina tells Medea of Creon's ravings. Medea replies that her vengeance shall know no bounds in her desire to inflict suffering on Jason. Even his own sons shall not be spared. Creusa appears, begging Medea to lift the spell on her father. Medea promises to do so once she has seen Creusa wedded to Orontes and confronts the princess with her adulterous love for Jason. Terrified, she agrees to give Jason up if her father's life is spared. Cleonis and the court enter with news that Creon, raving, has killed Orontes and then himself. Creusa dismisses the lamenting Corinthians and turns in fury on Medea, swearing that Jason will take revenge. Medea touches her and leaves. The enchanted dress releases its poison and Creusa collapses in agony. Jason rushes in and she dies in his arms. Jason runs, distraught to find a weapon to punish Medea but is confronted by her and the vision of his two sons, dead. Medea declares herself revenged and departs. The palace is destroyed.