Main content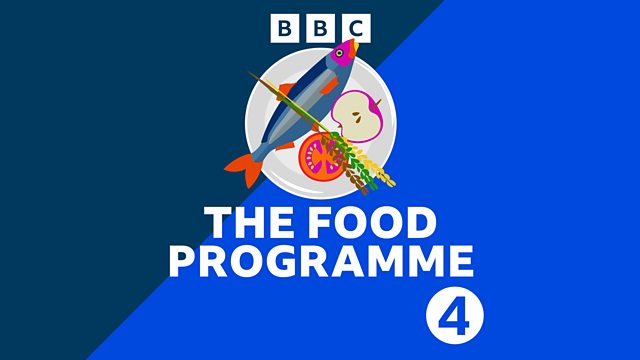 Food, Cancer and Well-Being
Sheila Dillon asks if food and nutrition should have a bigger role in treating cancer. Is the medical profession too reluctant to see food as an essential component in improving the well-being of cancer patients
Producer: Maggie Ayre.
Last on
Marinated Chicken on Spring Vegetables by Conner Middelmann-Whitney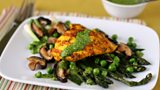 This colorful and fragrant dish is smart enough to serve to guests, yet quick and easy to prepare. Best of all, it's packed with healthy nutrients that have known cancer-protective properties, such as garlic, fresh herbs, olive oil, turmeric, green vegetables, shiitake mushrooms, citrus juice and peel. Serves 4. 
Ingredients
500g chicken breasts, halved or cut lengthwise into strips about 1 cm thick, 1-2 tbsp olive oil for frying
Marinade
2 cloves garlic, crushed
juice of ½ lemon
grated zest of ½ lemon (untreated)
3 tbsp fresh and/or dried herbs (e.g. rosemary, thyme, parsley, sage, oregano)
1 tsp ground turmeric
1 tsp paprika powder
3 tbsp olive oil
salt & freshly ground pepper
Salsa verde
2 cups flat-leaf parsley
½ cup olive oil
2 anchovy fillets in olive oil, drained
the juice of 1 lemon
¼ cup pine kernels
1 clove garlic, crushed
salt, pepper
Roast spring vegetables
300g asparagus, bottom inch/2 cm cut off
150g spring onions, trimmed
3-4 tbsp olive oil
2 cloves garlic, coarsely chopped
50g shiitake mushrooms, sliced
125g/1 cup frozen peas
Marinade: Place all the ingredients in a small electric blender and whizz into a
green-speckled yellow paste. Place chicken slices in a shallow dish, pour marinade
over the meat and mix with a wooden spoon or spatula until the meat is well
coated on all sides (don't use your hands – they'll stain bright-yellow!). Cover dish
with cling film or a tight-fitting lid and marinade in the refrigerator for at least an
hour, ideally overnight.
Salsa verde: Place all ingredients in the electric blender (rinsed lightly after making the marinade) and whizz into a smooth light-green paste; if necessary, thin with a little water. Season to taste with salt, pepper and lemon juice and set aside.
Vegetables: Pre-heat grill on "high". Arrange asparagus and spring onions in a single layer on a baking tray. Drizzle with 2-3 tablespoons olive oil until they are well coated. Sprinkle lightly with coarse salt and slide under the grill. Grill for 5 minutes until the upper side of the vegetables is lightly browned. Pierce with a kitchen knife; if they are still hard, flip them over with a spatula and grill them for 4-5 minutes on the other side. Once they are soft, remove from the oven, cover to keep warm and set aside.
While the vegetables are cooking, heat another tablespoon of olive oil in a frying pan over moderate heat and cook chopped garlic for 30 seconds; add sliced shiitake mushrooms and cook 5-10 minutes until they soften and turn a light golden colour. Stir in the peas, immediately remove from heat and allow the peas to warm up with the mushrooms.
When you are ready to eat, pre-heat a ridged griddle pan or frying pan on medium heat. Add a tablespoon olive oil and place meat in the pan. Gently cook for 2-3 minutes, then turn and cook another 2-3 minutes until the centres are no longer pink but still slightly juicy.
Dress vegetables on plates and top with the chicken pieces; then drizzle with salsa verde and serve immediately.
Very Berry Summer Pudding by Conner Middelmann-Whitney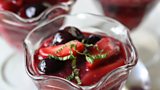 Some cancer researchers recommend that we eat berries daily; this delicious dessert will help you achieve this goal (smoothies are another great way of getting there). Several berries – notably black and red raspberries, blackberries, strawberries and elderberries – contain an array of healthy compounds that have been found in laboratory studies to have anti-cancer effects. These include vitamins A, C, E and folic acid; selenium; calcium; polyphenols such as ellagic acid; and compounds called anthocyanins, which give berries their color. While it is best to eat fruits and vegetables during their local growing season, we can make an exception here: the berry season being woefully short and fresh berries expensive, it's fine to make this with frozen berries and enjoy it all year round. Serves 4.
Ingredients
1.1lb/500g mixed and berries (raspberries, strawberries, red- and black currants, blackberries, cranberries, gooseberries etc.), pitted cherries and pomegranate arils – fresh or frozen
7fl oz/scant 1 cup/200ml unsweetened tart cherry or red berry juice
2 tbsp potato starch
grated zest of ½ lemon (untreated)
3 tbsp acacia honey (more or less to taste)
1 tsp natural vanilla extract
finely chopped mint leaves for garnish
Pour juice into a medium-sized pot, add potato starch, lemon zest and honey and mix with a balloon whisk. Over medium heat, bring the mixture to a simmer, whisking continually until it thickens.
Remove from heat, tip in the berries and stir gently with a wooden spoon to coat these evenly with the thickened juice. If necessary, add honey to adjust sweetness, one teaspoon at a time.                                 
Spoon into a glass serving bowl or individual glasses. Decorate with mint leaves and serve at room temperature or chilled.
Credits
| Role | Contributor |
| --- | --- |
| Presenter | Sheila Dillon |
| Producer | Maggie Ayre |
Broadcasts