Main content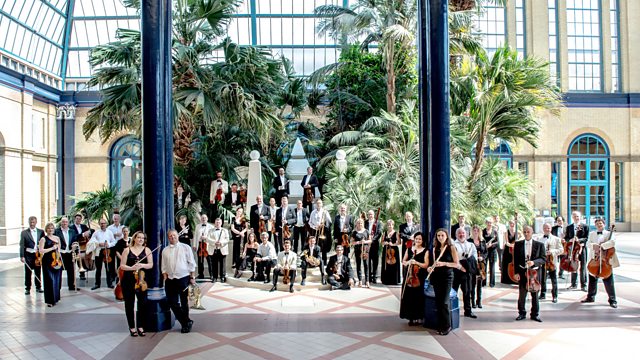 Flora, Fauna and Frolics
Vanessa Feltz goes green-fingered for a special garden-themed show. Includes Interval, with a tour round the Chelsea Physic Garden, London's oldest botanical garden.
Friday Night is Music Night goes all green-fingered for a special garden themed show presented by Vanessa Feltz. We prove that apart from love nothing has influenced the world's great composers more than horticulture. Gavin Sutherland conducts the BBC Concert Orchestra in a musical bouquet including the Waltz of the Flowers from the Nutcracker by Tchaikovsky and Rimsky Korsakov's Flight of the Bumble Bee
Special guests include the Operababes(Rebecca Knight and Karen England) who perform the Flower Duet from Lakme and Claire Jones, harpist to HRH Prince of Wales, joins the BBC Concert Orchestra in music from the Highgrove Suite by Patrick Hawes.
First broadcast in May 2013.
Introducing...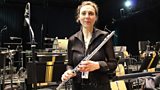 Name:
My name is Ileana Ruhemann  

What instrument do you play?
I am Principal Flute of the BBC Concert Orchestra which means I am required to play the flute, piccolo, alto flute and occasionally the bass flute too. I have also had to play a little bit of recorder at times, with Kylie Minogue no less!

When did you start playing and why did you pick that instrument?
I started playing the flute at the age of 9. I had already been playing the piano and recorder for several years. It turned out that a Swiss au-pair girl who came to live with us, played the flute and I remember her showing me how to play it once when we were on holiday. She also showed my cousin at the same time. I liked playing it immediately but my cousin didn't and never wanted to touch it again! My father had a flute in the bottom of his wardrobe which he had played briefly at school so he found it and there was no turning back! Instrument to hand and a flute teacher in the home.

What's the most difficult aspect of playing?
Is giving myself enough time off playing! I find it very difficult to turn down interesting work which often means missing family holidays that I have chosen, planned and booked!

What part of your body suffers the most?
I cannot say, touch wood, that I have any particular problems with hands, back, neck etc. When holding the flute even when playing for quite long periods of time. I do remember my fingers complaining a bit when we were required to play Madame Butterfly twice in one day!

What's your favourite piece and why?
We play a very wide range of music in the BBC and I am happy to say that I like a lot of it. I am tempted to say that one of my most favourite composers is Schubert but I can't remember the last time we played any of his music in the orchestra! My parents and grand-parents used to listen to a lot of Schubert songs. I think the piece that Stanley Black wrote for me to play as a soloist with the orchestra called Skylark is one of the most beautifully written pieces for flute and I love playing it. He was a master arranger and the colours he finds by combining instruments in particular ways is so clever in that work.- I think his arrangements that we play regularly in the orchestra such as the James Bond medley and Manhattan skyline are some of my favourites.

What was your most memorable Friday Night and why?
I will have been in the orchestra for twenty five years next January and that makes a lot of Friday Night is Music Nights! I reckon I must have played almost a thousand. I can't honestly say that there is one occasion that sticks out as the most memorable .So many of them have been special in one way or another. I do remember weeping through Sheep may Safely Graze when our Principal Piccolo played his last Friday Night next to me after being in the orchestra for 40 years.
An Insiders View with Harpist Claire Jones.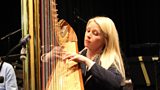 What woman doesn't like flowers? I adore them, so when I was invited to perform a selection of floral themed pieces for Friday Night is Music Night I jumped at the chance.
There's a whole host of music that I could choose from but my starting point had to be the Highgrove Suite. This is a piece for solo Harp and Orchestra based on Highgrove Gardens, written for me by Patrick Hawes, was a Royal commission by HRH The Prince of Wales.
At the time I was the Official Harpist to the Prince. It was a magical time during which I performed regularly for the royal family and for royal engagements and state occasions. This included the most memorable performance of all  – The Royal Wedding, for which I was honoured to perform to welcome the newly married Duke and Duchess of Cambridge back to Buckingham Palace after the ceremony.
The second piece I chose to include is To a Wild Rose by Edward McDowell. This is a piano piece I used to play when I was younger and I was always fond of it.  I wanted to make full use of the wonderful BBC Concert Orchestra and Maestro Gavin Sutherland so I asked my husband Chris Marshall arrange it for harp and orchestra. I hope you'll agree that it's just a beautiful piece of music, and perfect for our theme.
The final piece just  had to be Welsh.  Bugeilio'r Gwenith Gwyn translates as 'Watching the Wheat' and was written by a fellow Royal Harpist- John Thomas -  who was harpist to Queen Victoria. The piece really evokes the feeling of home with the strong Welsh theme. The piece develops in to some massive runs on all over the harp. I remember the first time I saw it performed and I knew straight away I wanted to learn it. It's been an important part of my repertoire since. 
It was such a memorable experience being part of the show, I loved every minute of it. The Orchestra and all the soloists were great fun to work with and hopefully I get the chance to work with them all again. 
Conductors' Corner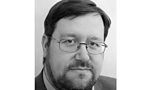 1 Coronation Street or Eastenders
Neither. Don't do soaps!!

2 Dunk or Crunch?
Dunk. I am a Northerner after all!

3 Favourite Interval tipple?
Pepsi Max. Something fizzy with the minimal amount of guilt works for me!

4 Sweet Or Sour?
Sweet. I have a very sweet tooth. As a result, it's almost the only one left in my mouth!

5 Sondheim or Bernstein?
Sondheim. For me, it performs better. Too many people have read too much into Bernstein (including the man himself) and that detracts from the result.

6 Kaiser Chiefs or Khachaturian ?
Khachaturian. Better tunes. And of course Perry Como had a big hit with him - "Khachaturian and put it in your pocket..." I'll get me coat...

7 Favourite venue?
Hamer Hall, Melbourne, Australia. Familiar venue, and good contact with the audience. First rate Steinway grand, too - the best I've ever played. Hard to fit into a suitcase though...

8 Favourite holidays destination ?
What's a "holiday"?

9 Aria or showtunes?
I grew up with showtunes, but like both. Arias can be showtunes too (of sorts!) so I guess my dual liking stands!

10 Quill and Ink or Twitter?
Prefer quill and ink, but sadly it seems like the entire rest of the planet need immediate contact or a way to tell everybody how wonderful their life is. I have Twitter, but simply lurk...