Main content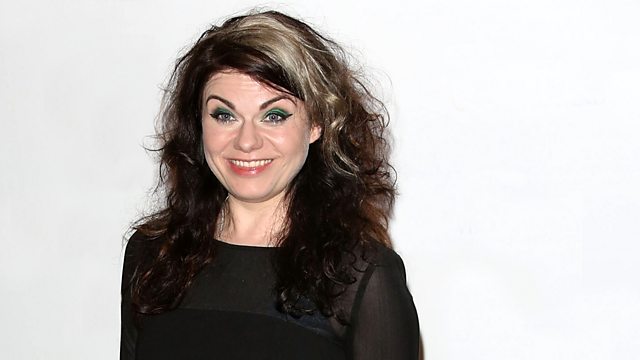 Caitlin Moran, Murray Lachlan Young, John McCarthy in Kosovo, Bonnie Tyler's Inheritance Tracks
Sian Williams and Richard Coles with Caitlin Moran, Murray Lachlan Young, a tape of Jimi Hendrix and Jim Morrison, John McCarthy in Kosovo, and Bonnie Tyler's Inheritance Tracks.
Sian Williams & Richard Coles with writer Caitlin Moran, poet Murray Lachlan Young, and Andy Miller and his recording of Jimi Hendrix & Jim Morrison playing together. John McCarthy travels to Kosovo, JP Devlin drops in on Wolverhampton, listeners Joy Jones and Gillian Scott-Wood explain why their family has been sending each other the same birthday card for 64 years & Bonnie Tyler shares her Inheritance Tracks.
Producer: Dixi Stewart.
Last on
Clips

STUDIO GUEST :: CAITLIN MORAN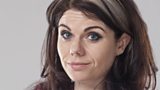 Sian and Richard are joined live in the studio by columnist and author Caitlin Moran.
Listen to Caitlin on Radio 4's My Teenage Diary
Tim Minchin interviews Caitlin on Radio 4's Chain Reaction
Caitlin interviews Jennifer Saunders on Radio 4's Chain Reaction
Listen to Caitlin on Radio 4's Midweek
Listen to Caitlin on Radio 4's Woman's Hour
Caitlin's latest book Moranthology is available now.
INHERITANCE TRACKS :: BONNIE TYLER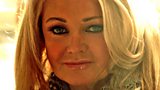 Singer Bonnie Tyler chooses A Hard Day's Night by the Beatles as the song she has inherited and River Deep Mountain High by Tina Turner as the track she'd like to pass down.
Hear Bonnie Tyler compete in the Eurovision Song Contest tonight at 8pm on BBC Radio 2
UNHEARD ROCK AND ROLL BOOTLEG :: ANDY MILLER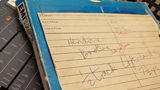 Andy Miller worked in a London recording studio in the seventies. Many years ago he gave his daughter Jess a reel of tape labelled 'Jimi Hendrix and Jim Morrison bootleg'.  The tape hasn't been played for over 40 years, Jess and Andy came to Saturday Live to discover whether or not it's a valuable recording. 
TRAVEL :: KOSOVO WITH JOHN MCCARTHY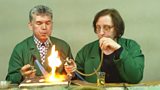 In the second instalment from Kosovo, John McCarthy meets writer and NGO worker Elizabeth Gowing who tells him about the Edwardian Edith Durham who travelled widely in the Balkans. She is held in high esteem by Albanian Kosovars and they are putting up a statue to her in the capital Pristina. John visits the sculptor Luan Mulliqi and a traditional filigree factory in Prizren. 
More on Elizabeth Growing
Read about Elizabeth's book Edith & I
More on Luan Mulliqi
Read about The Ideas Partnership in Kosovo
Learn more about the art of filigree
THE THING ABOUT ME :: THE MACGREGOR CARD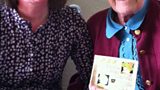 Joy Jones and her niece Gillian Scott-Wood tell us about the birthday card which has been passed around their family since 1949.
CROWDSCAPE :: WOLVERHAMPTON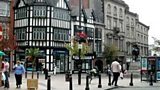 JP's mingling amongst the people in Queen Square, Wolverhampton.
POET :: MURRAY LACHLAN YOUNG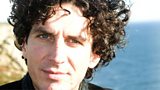 POEM :: A MEDITATION ON CELEBRITY
The known and unkown.
Oh the 'known' are all known, by the unknowns
But the unknowns unknown by the 'known'
Yet the unknown, unknown by the unknown
And the 'known' are all known by the 'known'
But when the unknowns are known by enough unknowns
Then the unknown are now newly known'
And as newly known, 'known' they are known by the 'known'
Who all know what it is to be known
Yes, they know that the 'known' must be known by the known
Just to show the unknown they know 'known'
Lest the unknown now no that the 'known' that are known
Are no more than unknowns that are 'known'
© Murray Lachlan Young
POEM :: BOOM BANG A BANG A OOM PA PA PA!
The Mullet and the lederhosen
The glitter and the tashe
The Eurovision song contest
A special kind of throbbing rash
Returns a to show us visions of such perfect integration
Delivered from a one night stand of sequinned conflagration
With a: Nerf point deeze point, dooze point la!
Boom bang-a-bang-a boom-bang-a-bang-a
Oom pa pa pa!
See the famous Ukrain giant
Watch the strange forbidden fruit
As finnish lesbians must kiss
Ah yes and then the high heeled disco boots
Whilst we the island monkeys laugh
And wonder how we came so far
And smugly muse on how unlike
The continent we are
Still clinging to Beatles we're as snobbish as we all can be
The Jam the clash Spandua Ballet.
We mock Balcan hegemony
DeeZ point, Dooze point, Dooze point bah!
We claim that it's unwinnable
To sugar coat our bottom place
Our knowledge of the deals and trysts
Leaves irony to save our face
But secretly and honestly and really rather desperately
We're holding out for a hero!
Were holding out for a hero from another time
She's got to be blond and she's got to be bold
And she's got to be yours and be mine
We need a hero
We need to show them all our shooting star
With massive hair and shoulder pads           
(Deez point nerf point dooze point ya!
Bonnie tyler sieze the day)
And hand them their boom bang a banga oom pa pa pa! 
© Murray Lachlan Young
RICHARD'S BLOG :: IT'S A SMALL WORLD
We've been in Kintyre for the past couple of weeks, our annual trip to that beautiful and remote peninsula, first because that part of Scotland is never lovelier than in May, even if the weather fronts sweeping in from the Atlantic threaten to shake the blossom from the trees and even halt the little ferry that chugs over from the island of Arran; and second because of its very remoteness. Although it is part of the mainland and south of Glasgow you have to drive half way to John O'Groats to access it or take two ferries and cross one of the Clyde islands, a journey of around twelve hours whichever way you do it. I suppose this is why Paul McCartney chose it for his retreat, the journey from London so long and difficult that it would deter even the most dedicated paparazzi from pursuing him. We stay in a tiny place on the coast,  'the most beautiful place in the world' according to the late Linda McCartney, watching otters and oyster catchers and dolphins and the occasional submarine gliding up Kilbrannan Sound. We don't do anything much while we're there but we have got to know some people over the years and we help out a tiny Anglican church, for clergy round these parts are, literally, rarer than golden eagles. I preached on Ascension Day to a tiny congregation but afterwards a lady came up and asked me to give my regards to one of my parishioners here in Finedon. She turned out to have been married forty years ago at my church to a man who was once a sidesman there, and although it is not quite that scene in Casablanca when Humphrey Bogart says "of all the bars in all the town in all the world…" you know what I mean. It happens so often when you're away, bumping into someone you know, that it hardly surprises me any more. Perhaps this is a peculiarly English relish for making connections – my mum maintains in her head a map of the world in which she places everyone she has ever met – but a friend of mine talks about her mother's Jewish geography, which maps the overlapping worlds of London, Manchester, New York and Tel Aviv in much the same way. I used to find that sort of connectivity rather daunting and something to escape from, but now I rather like it, the web of happenstance, if that's what it is, that we wander into and through.
You find it often happens on Saturday Live too, patterns and connections suddenly emerge, and you get a kind of traction that pleases. We've got high hopes for it arriving this week when we assemble our studio guest Caitlin Moran, wonderful wonderful writer and columnist and tweeter, our own Murray Lachlan Young with a poem or two, the sound of a crowded Wolverhampton (where Caitlin's from) and a birthday card which has been circulating among a group of siblings for years. We also hear a mysterious audio tape marked Jimi Hendrix, which one of our listeners discovered under her bed made by the producer Andy Pugwash Miller (her dad). He can't remember what's on it so we will play it for the first time live on the programme and find out. Who knows, it may be a lost masterpiece? And if that were not enough rock royalty we also have the Inheritance Tracks of the brilliant Bonnie Tyler, who's flying the flag at Eurovision this weekend.
Douze points!
STUDIO PHOTO :: RICHARD, CAITLIN, SIAN, MURRAY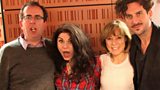 STUDIO DRAWING :: LIVE ART FROM LORE YOUNG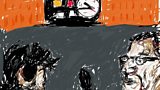 Murray Lachlan Young's son, 13 year old Lore, was hard at work during the programme capturing the Saturday Live studio scene on his tablet. Creativity clearly runs in the family!  
Credits
| Role | Contributor |
| --- | --- |
| Presenter | Sian Williams |
| Presenter | Richard Coles |
| Interviewed Guest | Caitlin Moran |
| Interviewed Guest | Murray Lachlan Young |
| Interviewed Guest | John McCarthy |
| Interviewed Guest | JP Devlin |
| Interviewed Guest | Bonnie Tyler |
| Producer | Dixi Stewart |
| Editor | Sharon Banoff |
Broadcast