Main content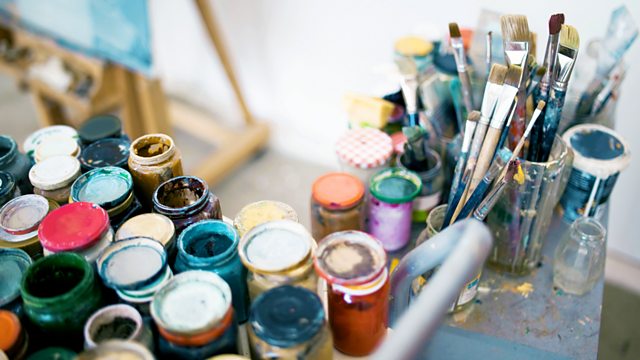 A Room for a View: The Artist's Studio
4 Extra Debut. Rats under floorboards covered in paint? Artist Susan Aldworth explores the artist's studio in a technological age. From 2013.
Rats in the skirting boards, paint splattered floors, absinthe bottles in the corner of the room, the odd severed ear. The artist's studio imagined. But what about the real thing?
Armed with sharpened palette knife and microphone, artist Susan Aldworth explores studios of the future and the past, posing the question are you an artist if you don't have a studio, and in the age of computer technology, do you need one at all?
Most artists work alone - hidden from the world, in a private sanctuary where they can think, dream, create and most importantly make mistakes.
Anish Kapoor and Anthony Gormley, like Michelangelo, have huge warehouse spaces, along with teams of assistants - their studios are bustling hives of creation, almost manufacturing.
By contrast Frank Laws is an early career artist, just beginning to make a living, his canvasses are too large to paint in his flat - so despite it taking half his income, he has a shared studio in a warehouse in the East End of London.
In " A Room for a View: The Artist's Studio" Susan Aldworth visits the studio of artist Tony Bevan, to find out how he uses the space to create his art; hears of rat infested studios from Jonathan Harvey, executive director of legendary studio co-operative ACME, who are currently building new studios for the future, and talks to Hossein Amirsadeghi who has just visited over 100 British artists in their studios, resulting in an encyclopaedic photographic record - "Sanctuary" - all exploring the idea of what makes a great studio and good place to make art.
Presenter: Susan Aldworth is an artist with a current display at the National Portrait Gallery, and 20 years' experience as an artist and teacher.
Produced by Sara Jane Hall
First broadcast on BBC Radio 4 in 2013.
Last on
Broadcasts