Female GPs; A Partner's Ex
Are part-time female GPs creating a problem for the health service? Polly Vernon and Eleanor Moran discuss the impact on a relationship of a partner's ex loves. We hear from Afghanistan's first female military helicopter pilot. A new report says women's inequality is getting worse under current government policies.
Presented by Jane Garvey.
Producer by Rebecca Wood.
Last on
Are part-time women doctors creating a timebomb for the NHS?
This year women GPs are predicted to outnumber male GPs. A  15 year follow-up of doctors after graduation showed that, on average, after career breaks and part time working are taken into account women work 25% less than their male counterparts. What impact will this have on patient care and the profession as a whole and what's being done to address potential problems in the future? Jane discusses with Dr Sarah Wollaston, MP, and Dr. Katherine Woolf, Academic psychologist.
Women and Medicine - The Future
Being jealous of your partner's ex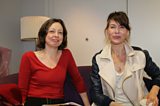 For most of us, our partner's exes are mysterious people who we'll usually never know beyond our partner's coy descriptions and maybe the odd item left behind, a relic of relationships past. In Leanne Shapton's latest graphic novel, 'Was She Pretty?' she looks at perceptions of former loves and how knowledge (or lack of) can bring out our jealousies. Have you ever been haunted by your partner's ex? Columnist Polly Vernon and author Eleanor Moran discuss.

Was She Pretty? By Leanne Shapton. Published by Particular Books
Women's Equality Report
Inequality for women is getting worse as a direct result of the Government's austerity policies, according to charities working in the women's sector. Later today the Women's Resource Centre will launch a report which it says points to a breach in the UN's bill of rights for women, a convention that the UK government is signed up to. The WRC is hoping that international pressure will force the government to take gender equality into account in its policy making decisions. Jane is joined by Vivienne Haynes of the WRC and by Sue Robson of the North East Women's Network, an area said to be suffering a 'crisis of gender inequality'.
Afghanistan's first female military helicopter pilots
In 1989 Latifa Nabizada and her sister Laliuma became Afghanistan's first women military helicopter pilots. Five years ago Laliuma died in childbirth, so Latifa is now bringing up both her sister's child and her own daughter Malalai. She talks about balancing her military career and motherhood.
Credits
| Role | Contributor |
| --- | --- |
| Presenter | Jane Garvey |
| Producer | Rebecca Wood |
| Interviewed Guest | Polly Vernon |
| Interviewed Guest | Eleanor Moran |