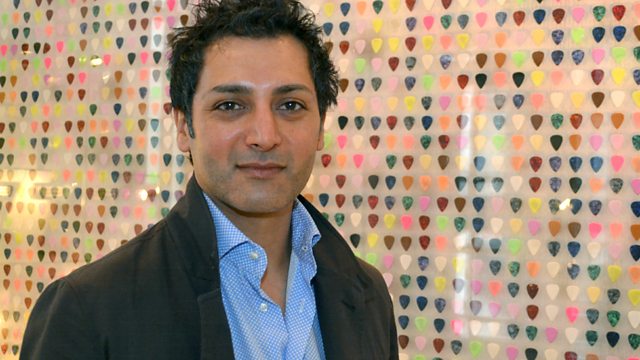 Hari Dhillon and James Oswald
Actor Hari Dhillon takes time out from rehearsals for Disgraced at the Bush Theatre
Crime writer James Oswald is here with his new book Natural Causes
Anna Bailey goes behind the scenes of the latest smash hit musical to come to the West End - the Tony award winning Once
Plus Helen O'Hara has all the latest film news; Alex Heminsley is here with the latest selection of books to review; and the arts round up with the next seven days of arts news from around the country.
Last on
Hari Dhillon talks about Disgraced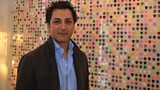 Hari Dhillon stars in Ayad Akhtar's play Disgraced which tells the story of an American Muslim Lawyer and his friends who end up clashing, fiercely over politics and faith at a dinner party. The play received electrifying reviews in New York and it won the 2013 Pulitzer Prize. 
The London production at the Bush Theatre runs until the 22nd of June.
Helen O'Hara talks about latest film reviews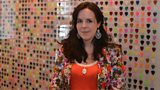 1. THE GREAT GATSBY
Director: Baz Luhrmann
Starring: Leonardo DiCaprio, Tobey Maguire, Carey Mulligan, Joel Edgerton, Isla Fisher  The Great Gatsby is out now
2. Fast And Furious 6
Director: Justin Lin
Starring: Vin Diesel, Paul Walker, Dwayne Johnson, Jordana Brewster, Michelle Rodriguez, Tyrese Gibson  Fast And Furious in cinemas today.
3. EPIC
Director: Chris Wedge
Starring: Amanda Seyfried, Coin Farrell, Christoph Waltz, Josh Hutchinson, Beyonce Knowles Epic is in cinemas now.
4.Les Miserables (DVD & blu-ray):
Director:  Tom Hooper  Stars:Hugh Jackman, Russell Crowe, Anne Hathaway Les Miserables is available on DVD and Blu Ray now.
James Oswald talks about his new book Natural Causes and raising Sheep and Cattle in Fife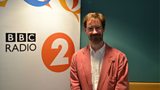 James Oswald runs a 350 acre livestock farm in North East Fife, and raises pedigree Highland Cattle and New Zealand Romney Sheep... he also writes; Natural Causes and Book of Souls follow Edinburgh Detective Inspector Tony Maclean. 
Natural Causes is out now, Book of Souls is out in July. available from Penguin.
 
Anna Bailey goes behind the scenes at Once, The Award Winning Irish Musical, at the Phoenix Theatre, London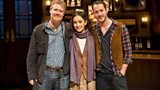 The Award winning Irish musical Once, at the Phoenix Theatre, London garnered 9 Tony Awards on Broadway. Adapted from the film, by John Carney, music and lyrics written by Glen Hansard, former Comitments actor.
Alex Heminsley reviews the latest books about.... Women who won't be told.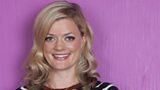 Was She Pretty by Leanne Shapton   A tiny book of line drawings on exes.  Published by Penguin, out now

Ambition by Julie Burchill  The queen bees of the school gate. Cringe at the true to life details about competitive mums Published by Corvus, out now
The Shining Girls by Lauren Beukes   Terrifying serial killer thriller that has got everyone talking  Published by HarperCollins, out now
 
The Hive by Gill Hornby  Published by Little Brown on sale 23rd May

Anna Bailey brings news from the Arts desk
DANCE: DUBLIN DANCE FESTIVAL: this year's festival features work from award winning choreographers from all over the world including Larrisa McGoven and Ros Warby from Australia. There are also new Irish pieces and master classes too. http://www.dublindancefestival.ie/programme/
THEATRE:  THE WINSLOW BOY: Terrance Rattigan's famous play is at the Clwyd Theatr Cymru until the 1 June directed by Terry Hands. http://www.clwyd-theatr-cymru.co.uk/#1
ART: ABOUT FACE: The Barber Institute in Birmingham celebrates its 80th birthday with some classical portraits including works by Rembrandt, Lely, Goya and Cezanne.
COMEDY: SEAN HUGHES: is back on the comedy circuit with a one man show dedicated to the death of his father. In Great Yarmouth on the 18 May.  http://www.ents24.com/uk/tour-dates/sean-hughes
PHOTOGRAPHY: SABASTIAO SALGADO: wildlife and landscape photography from Brazilian photo journalist Sabastiao Salgado who travelled 32 countries with his camera. Until 8 September 2013.