Main content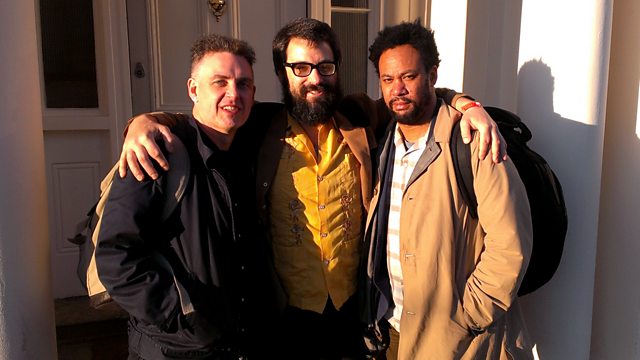 Jason Adasiewicz's Sun Rooms
Jez Nelson presents vibraphone player Jason Adasiewicz and his Sun Rooms trio playing at the 2013 Cheltenham Festival. His group features Mike Reed (drums) and Devin Hoff (bass).
US vibes player Jason Adasiewicz brings his Sun Rooms trio to the 2013 Cheltenham Festival. As a former drummer, his music is quite literally hard-hitting - the force of his mallets getting the instrument to resonate, in his words, "to the point of distortion". His emphasis on timbre reaches beyond power, though, finding subtle shadings that lend his vibraphone a distinctive and wholly contemporary sound. Adasiewicz has a grounding in straightahead jazz but also in the avant-garde of his native Chicago. Sun Rooms explores the interplay between the two, with Mike Reed on drums and Devin Hoff on bass.
Presenter: Jez Nelson
Producers: Peggy Sutton & Chris Elcombe.
Music Played
Troyk-estra recorded at Parabola Arts Centre, Cheltenham Jazz Festival on 5 May 2013

Untitled

Line Up: Chris Montague (guitar); Kit Downes (keys); Joshua Blackmore (drums); Nick Smart (director); Reuben Fowler (trumpet); Alex Bonney (trumpet); Noel Langley (trumpet);

Untitled

Imogen Hancock (trumpet); Kieran Stickle McLeod (trombone); Patrick Hayes (trombone); Tom Green (trombone); Courtney Brown (bass trombone); Mike Chillingworth (alto sax); Nadim Teimoori (alto sax);

Untitled

Sam Miles (tenor sax); James Allsopp (tenor sax); Sam Rapley (bass clarinet, baritone sax); Louis Van Der Westhuizen (bass); Ralph Hero Wyld (vibraphone)

Jason Adasiewicz's Sun Rooms recorded at Parabola Arts Centre, Cheltenham Jazz Festival on 5 May 2013

Untitled

Line up: Jason Adasiewicz (vibraphone); Devin Hoff (bass); Mike Reed (drums)

Listener Story: Snarky Puppy's Name

Jez talks to Cheltenham 'Artist in Residence' Gregory Porter

Jason Adasiewicz's Sun Rooms recorded at Parabola Arts Centre, Cheltenham Jazz Festival on 5 May 2013

Critic Peter Bacon speaks with Jez after the gig

The Ravi Coltrane Quintet recorded at Jazz Arena, Cheltenham Jazz Festival on 4 May 2013

Untitled

Line up: Ravi Coltrane (saxophone); Ralph Alessi (trumpet); David Virelles (piano); Drew Gress (bass); Eric McPherson (drums)