Main content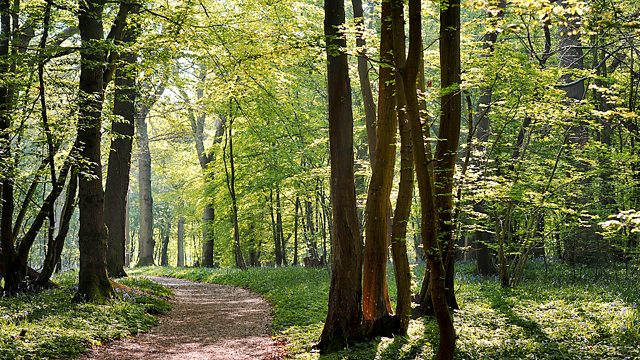 I Love No Leafless Land
Texts and music inspired by trees, with readings by Lucy Briers and Gerard Murphy. Including DH Lawrence, Shakespeare and CS Lewis, plus Repighi, Butterworth and Takemitsu.
"I love no leafless land"
Readers: Lucy Briers and Gerard Murphy.
Taking its title from words by A E Housman, this edition of Words and Music is inspired by trees.
There are individual real trees such as Sassoon's "Blunden's Oak", or a spectacularly "dissolving" storm-battered beech, and trees that are symbolic - C. Day Lewis's Christmas Tree, and the trees that mark the passing of the year.
With poetry on the relationships between people and trees, the pleasure and pain of being solitary (Walt Whitman), and the struggle for survival (D H Lawrence), insistence on the need for trees (Gerard Manley Hopkins "Binsey Poplars, felled") and meditations on long life and ageing (W H Davies).
There are also celebrations of the sheer beauty and abundance of trees. Trees have spirits, so the Green Man makes his appearance, as do the dryads and hamadryads of mythology. (Shakespeare, James Thomson, C S Lewis)
The words are interleaved seamlessly with music, including Respighi's Pines, song settings by Butterworth and Madeleine Dring, an atmospheric evocation of acacias by Toru Takemitsu and some music generated by the wood of the trees themselves, using electronics and a modified turntable.
Music Played
Timings (where shown) are from the start of the programme in hours and minutes
Browning : Home thoughts from abroad

Gerard Murphy

Joyce Kilmer: Trees

Lucy Briers

Siegfried Sassoon: Blunden's Beech

Lucy Briers

Shakespeare: The Merry Wives of Windsor Act 4 Scene 4

Lucy Briers

Charles Causley : Green Man in the Garden

Gerard Murphy

A E Housman : Give me a land of boughs in leaf

Lucy Briers

Gerard Manley Hopkins: Binsey Poplars – felled 1879

Gerard Murphy

D H Lawrence: Delight of being alone

Lucy Briers

Walt Whitman: I saw in Louisiana a love oak growing

Gerard Murphy

William Meredith : Tree Marriage

Lucy Briers

P J Kavanagh : A Single Tree

Gerard Murphy

W H Davies : Violet and Oak

Lucy Briers

Ben Jonson : A Part of an Ode

Gerard Murphy

James Thomson : The Four Seasons : Summer

Gerard Murphy

C S Lewis : Prince Caspian

Lucy Briers

C. Day Lewis : The Christmas Tree

Lucy Briers

Robert Herrick : February 2nd Candlemas

Gerard Murphy

Paul Hyland : To make a tree

Lucy Briers

Peter Porter : The Pines of Rome

Gerard Murphy

Richard Mabey: The unpredictable power of nature

Lucy Briers

D H Lawrence : Almond Trees

Gerard Murphy

Tennyson : In memoriam. Old Yew

Lucy Briers

The hidden history of plant-based diets