Main content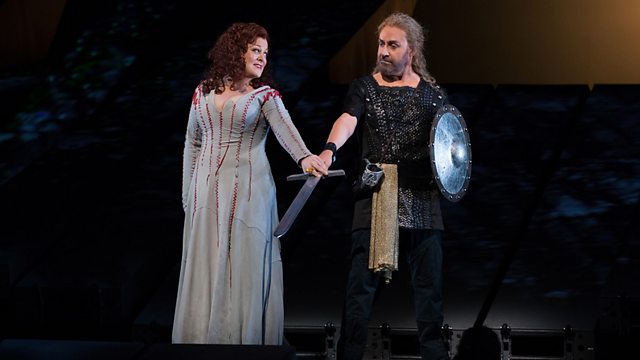 Wagner 200 - Gotterdammerung
Live from the Metropolitan Opera in New York, a performance of Wagner's Gotterdammerung. With Lars Cleveman, Deborah Voigt, Hans-Peter Konig, Richard Paul Fink and Iain Patterson.
Wagner's fifteen-hour, four-part epic 'Ring' reaches its transcendent conclusion with Götterdämmerung - 'Twilight of the Gods'. In the struggle between gods and mortals, the curse of the Ring dooms all who come into contact with it and Valhalla and the world end in fire and flood. Götterdämmerung shows Wagner's utter mastery of his musical and dramatic resources and some of the set pieces, including Siegfried's Rhine Journey and the Immolation Scene, are among the greatest moments in all opera. For this production, directed by Robert Lepage, the Met has assembled an international stellar cast with some of the finest Wagnerian voices of our time.
Presented by Margaret Juntwait with guest commentator Ira Siff.
Siegfried ..... Lars Cleveman (tenor)
Brünnhilde ..... Deborah Voigt (soprano)
Gunter ..... Iain Paterson (baritone)
Gutrune ..... Wendy Bryn Harmer (soprano)
Hagen ..... Hans-Peter König (bass)
Alberich ..... Richard Paul Fink (baritone)
Waltraute ..... Karen Cargill (mezzo-soprano)
First Norn ..... Maria Radner (contralto)
Second Norn ..... Michaela Martens (mezzo-soprano)
Third Norn ..... Heidi Melton (soprano)
Woglinde ..... Meredith Hansen (soprano)
Wellgunde ..... Jennifer Johnson Cano (soprano)
Flosshilde ..... Renée Tatum (mezzo-soprano)
Chorus and Orchestra of The Metroplitan Opera, New York
Fabio Luisi, conductor.