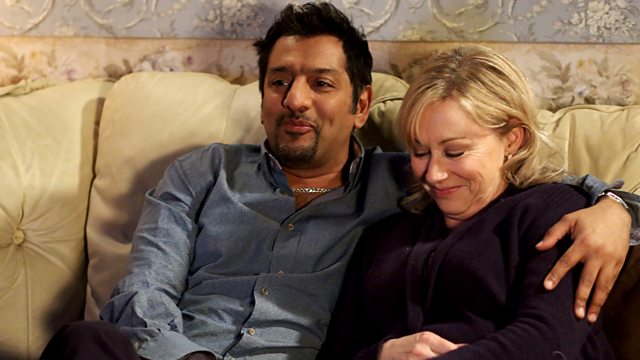 09/05/2013
No-one will babysit Scarlett. When Janine lets Michael hold Scarlett she instantly settles. Michael and Janine have a drink. Michael insists he doesn't want to get back together with her but thinks they can sort things out amicably. Janine disagrees and sends him away; she's glad the things he brought Scarlett are in a bin bag. Later, Janine makes a catty comment to Roxy about Alfie who retorts that Kat's moved on from Alfie to Michael. Roxy's claims seem to be confirmed when Janine sees Michael embracing Kat.
Roxy slams the safe shut then refuses to open it for Jozef. Jean's dismissive of Kat's concerns. Undeterred, Kat heads upstairs. Seeing Kat, Jozef grabs Roxy. Kat talks Jozef round and when Amy appears he leaves, shamefaced. In shock, Roxy allows Kat to help in the bar. Roxy wonders if Kat's really staying to see Alfie. Kat tries to talk sense into Roxy then goes home, hurt.
Lucy joins Whitney, Joey and Tyler in the Vic to celebrate Lauren's new job. Lauren arrives looking glamorous and Lucy starts making snide comments. Whitney sends Tyler to talk to Lauren. Tyler advises Lauren to fight for Joey. Lauren kisses Tyler, attempting to make Joey jealous. Furious, Whitney tells Lauren they're finished. Lucy remarks that Whitney's got the job after all.
Deciding she's making a fool of herself, Carol cancels her date with Masood. Tiffany and Bianca lure Masood to the Butchers', claiming Tiffany needs homework help, then leave Carol and Masood alone. They pair watch a film and Masood sneaks an arm around Carol.
Alice has a blind date with an unenthusiastic Tamwar and it's soon apparent there's no chemistry between them. Eventually, in the queue for R&R, Poppy puts them out their misery and allows them to go their separate ways.
Last on
Credits
| Role | Contributor |
| --- | --- |
| Janine Butcher | Charlie Brooks |
| Michael Moon | Steve John Shepherd |
| Kat Moon | Jessie Wallace |
| Roxy Mitchell | Rita Simons |
| Lauren Branning | Jacqueline Jossa |
| Tyler Moon | Tony Discipline |
| Whitney Dean | Shona McGarty |
| Joey Branning | David Witts |
| Lucy Beale | Hetti Bywater |
| Carol Jackson | Lindsey Coulson |
| Bianca Butcher | Patsy Palmer |
| Masood Ahmed | Nitin Ganatra |
| AJ Ahmed | Phaldut Sharma |
| Tamwar Masood | Himesh Patel |
| Alice Branning | Jasmyn Banks |
| Poppy Meadow | Rachel Bright |
| Arthur 'Fatboy' Chubb | Ricky Norwood |
| Jean Slater | Gillian Wright |
| Billy Mitchell | Perry Fenwick |
| Tiffany Butcher | Maisie Smith |
| Sharon Rickman | Aleksandar Mikic |
| Executive Producer | Lorraine Newman |
| Director | Rupert Such |
| Writer | Pete Lawson |