Main content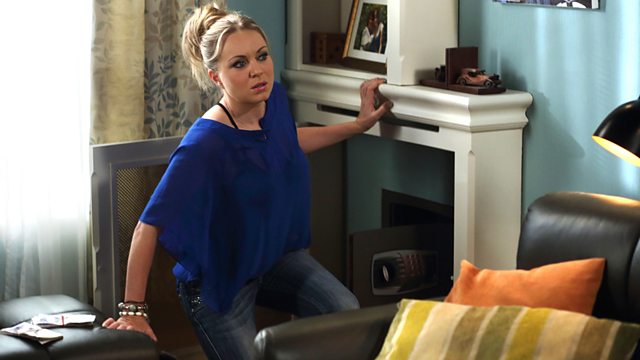 07/05/2013
Kat and Roxy have another run-in at the Vic, but will Roxy regret it? Meanwhile, Kirsty receives some good advice from Kat, but will she listen to her friend?
Alfie discovers Kat knows he and Roxy are trying for a baby; Kat claims she's happy for him. That evening, Alfie's out at a landlords' do. Ian's fired Jozef, Roxy rejects his offer to fix the dishwasher. The builders get rowdy and Kat keeps chipping in with unwanted advice. Ray leaves after Sasha's mum has a car accident. The bar's busy. Kat slams the till shut when Jozef eyes up the cash. Roxy throws Jozef out and asks Kat to leave. Kat spots Jozef sneaking back into the Vic. Roxy's getting change out of the safe when Jozef appears in the doorway.
Ian and Lucy hold waitress interviews for Le Square. Ian swiftly dismisses Bianca and Carol. Lucy ropes Joey in to unsettle Lauren. Poppy's offered the first job and Whitney withdraws so Lauren will get the other position. Lucy's aghast but agrees to go for a celebratory drink.
Dot predicts Kirsty's having a boy. Kat persuades Kirsty to tell Max she's not pregnant. Kirsty finds Max fretting about money. Dot arrives bearing blue booties. Seeing how thrilled Max is, Kirsty can't tell him the truth.
Poppy realises Alice's crush is on Michael. Alice appeals to Janine who then deliberately offers Michael a chance put Scarlett to bed during his VAT inspection, when he can't possibly come. In front of Michael, Poppy claims Alice has a date, telling Alice it's with one of Fatboy's friends. Michael's impressed when Lola stands up to him. Michael tells Kat Janine's going to have to find someone else to fight with.
Carol's eagerly anticipating her date with Masood until Ian's insults destroy her confidence.
Jay's working late. Abi grumbles that he never spends his money on her. Abi reassures Lola about her upcoming hearing. Jay announces to Abi they're all going on holiday; Dexter can pay for Lola.
Music Played
Timings (where shown) are from the start of the programme in hours and minutes
Credits
| Role | Contributor |
| --- | --- |
| Roxy Mitchell | Rita Simons |
| Sharon Rickman | Aleksandar Mikic |
| Kat Moon | Jessie Wallace |
| Michael Moon | Steve John Shepherd |
| Janine Butcher | Charlie Brooks |
| Alice Branning | Jasmyn Banks |
| Max Branning | Jake Wood |
| Kirsty Branning | Kierston Wareing |
| Dot Branning | June Brown |
| Ian Beale | Adam Woodyatt |
| Lucy Beale | Hetti Bywater |
| Lauren Branning | Jacqueline Jossa |
| Joey Branning | David Witts |
| Whitney Dean | Shona McGarty |
| Tyler Moon | Tony Discipline |
| Bianca Butcher | Patsy Palmer |
| Carol Jackson | Lindsey Coulson |
| Lola Pearce | Danielle Harold |
| Jay Brown | Jamie Borthwick |
| Dexter Hartman | Khali Best |
| Arthur 'Fatboy' Chubb | Ricky Norwood |
| Poppy Meadow | Rachel Bright |
| Jean Slater | Gillian Wright |
| Ray Dixon | Chucky Venn |
| Alfie Moon | Shane Richie |
| VAT Inspector | Gary Lawrence |
| Wojchiech | Ivan Marevich |
| Executive Producer | Lorraine Newman |
| Director | Rupert Such |
| Writer | Pete Lawson |