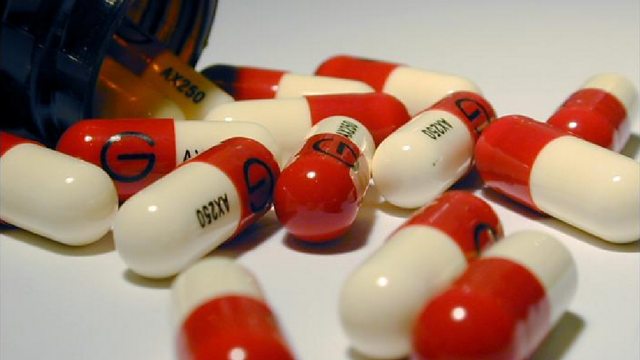 30/04/2013
Adam Walton talks to four Welsh scientists taking very different approaches to tackling the growing problem of antibiotic resistance.
Last on
Antibiotics
Science Café this week looks at how scientists in Wales are addressing the serious problem of antibiotic resistance. 
The better stewardship of antibiotics is key to preserving them for future effective use. To this end a team from Cardiff University's School of Medicine has devised a programme which has had considerable success in reducing the number of antibiotic prescriptions. Led by Professor Chris Butler, the Stemming the Tide of Antimicrobial Resistance – or STAR for short – gives GPs across Wales access to antibiotic prescribing and resistance data to use when consulting with patients. Better information usually leads to better understanding of how and when antibiotics are needed. 
More alternatives to antibiotics are also being sought. At Cardiff's Metropolitan University, Prof. Rose Cooper is researching how the antimicrobial properties of honey – in particular Manuka honey – can be used as an effective treatment for infected wounds. And a sugar in a very different form might be useful in treating bacterial infections in the bladder. And Dr Martina Lahmann, an organic chemist based at Bangor University, is researching the possibility of carbohydrate-based pharmaceuticals to treat very common, recurrent urinary tract infections.
Understanding why resistance to antibiotics is increasing is also important and Dr Prysor Williams, also at Bangor University, has been shedding light on the role of the environment in this. Many of the antibiotics we currently use can persist in the environment after they've been administered or manufactured. They're given to humans or animals – and then excreted.  And once they're in the environment, they can be very damaging. 
Professor Dame Sally Davies, the Chief Medical Advisor for England, has warned that issue of antibiotic resistance is 'a ticking time-bomb'. So it's good to hear some positive steps to address the problems.