Main content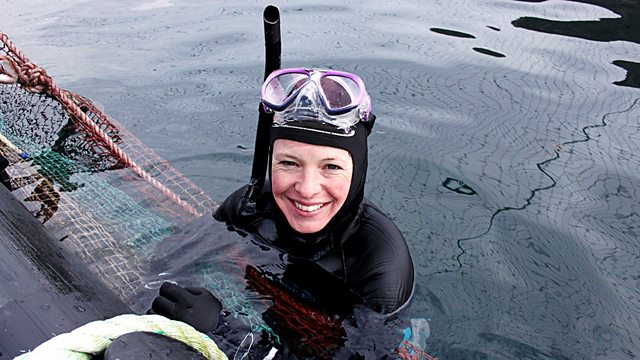 The team examine Britain's estuaries. Nick Crane explores the Firth of Forth, and Miranda Krestovnikoff discovers the secret of managing captive salmon.
Coast continues with a journey around the great estuaries of Britain, where 20 million people live, and a variety of animals thrive. The team visit the most dynamic and dramatic of our waterways to discover surprising stories that emerge where rivers and seas collide.
Nick Crane explores the wildlife and industry that are attracted to the Firth of Forth, the estuary that feeds Edinburgh. To reveal the secrets that made this coastline famous for salt production, Nick must answer the question: why is the sea salty? Nick also investigates a natural phenomenon discovered accidentally on this coast in 1834. First seen in the water of a canal near Edinburgh and dubbed the 'soliton', it's a rare type of wave that appears to travel endlessly, without losing energy and without breaking up, even when it collides with another soliton wave. Now engineers have created tiny soliton light waves, which could revolutionise the next generation of fibre-optic communication by transmitting messages effortlessly between continents.
Miranda Krestovnikoff witnesses the transformation that salmon must undergo to avoid death by dehydration as they migrate from freshwater to saltwater. This complex lifecycle made farming salmon practically impossible. So how, in 1971, did Scottish fish farmers discover the secret of managing salmon in captivity?
Tessa Dunlop reveals the Victorian system that relied on the power of the tide to wash the capital's sewage out to sea. The sewage tunnels themselves are still used, but in 1878 the deaths of 600 day-trippers aboard the SS Princess Alice, a pleasure ship wrecked in the Thames, caused such outrage that London's twice-daily tidal flush was abandoned. The victims had plunged into raw sewage, where they perished. London's mighty tidal flush was replaced by a fleet of purpose-built ships, carrying human waste from the capital out to the North Sea. Known to locals as 'the Bovril boats' these unsung heroes continued with their vital daily task right up until 1998.
Mark Horton discovers the struggle to build a rail tunnel deep under the Severn estuary between England and Wales, a challenge that was finally accomplished in 1886. Commuters on the 450 trains that now use it each day are unaware that a vast spring of underground water still pours continuously into the tunnel. Construction was halted for years as Victorian engineers tried to stem the underground spring, but they failed. Even today the rail link is only kept dry by powerful pumps that stop the rising waters.
And folk singer June Tabor returns to Coast to conjure up the haunting Brean Lament. June explores the superstitions surrounding the burial of shipwrecked sailors at the Somerset village of Brean, sited at the mouth of the mighty River Severn - where rivers and seas collide.
Last on

Clips

Music Played
Timings (where shown) are from the start of the programme in hours and minutes
Credits
| Role | Contributor |
| --- | --- |
| Presenter | Nicholas Crane |
| Presenter | Tessa Dunlop |
| Presenter | Mark Horton |
| Presenter | Miranda Krestovnikoff |
| Series Editor | Steve Evanson |
| Executive Producer | William Lyons |
| Participant | June Tabor |