Main content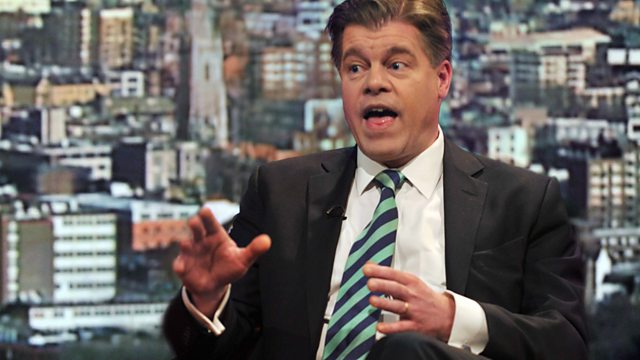 Andrew Rawnsley chairs a live discussion with top journalists as they debate what should be said in three newspaper-style leading articles about the top stories of the moment.
Andrew Rawnsley presents a live, studio-based debate taking the form of newspaper leader conferences. He was joined by Raphael Behr of the New Statesman; Mary Ann Sieghart formerly of the Independent; Sarah Sands of the London Evening Standard; Kamal Ahmed of the Sunday Telegraph; and Peter Montellier of the Newcastle Journal.
They drew up leaders on: the government's decision to end direct aid to South Africa; how to provide better sex education to school children; and why tedious university lecturers are a good thing.
Aiding South Africa
We consider that the diplomatic handling of the British government's decision to end direct aid to South Africa left much to be desired. It prompted understandable anger and resentment there. This is a country which has in recent months shown by its intervention in African hotspots its importance in promoting stability across the continent and protecting the vulnerable. These objectives are in Britain's interests too.
Although countries like South Africa have grown fast, the benefits of their greater wealth are unevenly distributed. Poverty there has a very long tail. Britain, having strong historic links to South Africa and still aspiring to a world leadership role in promoting democracy and human rights, needs to stay engaged with Pretoria, especially if it has doubts about the openness of South Africa's government and the probity of some of its officials.
We note the argument that the UK is, despite present economic conditions, still a relatively wealthy country and should, at a low annual cost to the British taxpayer, hold out the hand of fiscal friendship to the African continent's largest economy and democracy. Nevertheless, we think there may be better ways of helping South Africa.
We prefer business investment to direct government support. We also advocate freeing up trade to give consumers lower prices and South African businesses the chance to invest and create jobs. These would offer mutual benefits of lasting value.
Better Sex Education
Ofsted's finding that the quality of sex education in about a third of English secondary schools is not of a sufficiently high standard is disquieting and requires action.
We do not minimise the demands placed upon teachers - and parents - in a much more sexualised culture. Advertising can contain explicit imagery and young children are able to access hard core material online. But a panic about the alleged moral degeneracy of the internet would divert attention from areas where the improvement of sex education needs to be focused.
Accordingly, we propose a four-point plan of reform. First, some teaching focuses too narrowly on the biological dimensions of sex education to the neglect of relationships. Understanding the dangers of sexually-transmitted diseases is important. But mutual respect in relationships also needs to be emphasised. This is valuable in itself. It would also help, however, counteract the objectification of women which defines both pornography and its subtler manifestations in youth culture.
Second, teaching should promote confidence among school children in dealing with sexual matters. This is not to override parental preferences or concerns in this area. These should be taken account of sensitively, especially those which have an ethnic, religious or ethical component. But pupils' confidence will be best fostered by teaching that is well-informed emotionally and factually.
Third, teaching children how best safely to maintain their identities on social media is critical and can be buttressed through the technology component of the national curriculum. Finally, we believe these objectives will be best achieved by separate teaching of boys and girls.
Redeeming Dr Bohring
Jimmy Wales's obituary of the boring university lecturer, thanks to the alleged excitement of acquiring knowledge online through such portals as his own Wikipedia, is in our view premature and unwelcome.
Yes, students pay considerable sums for their courses. But enduring tweedy, dandruff-afflicted dons interminably reciting recondite knowledge in stuffy lecture theatres has been a valuable rite of passage for generations of undergraduates.
Many have learned that the acquisition of knowledge is not always simple and easy. But we also suspect innumerable eureka moments have occurred while harmless Dr Bohrings monotonously delivered their quotidian insights into metaphysics, quantum mechanics or the Laffer curve. And knowing which lectures can be skipped altogether was itself an indispensable education. It freed up time for by far the most useful hours of our student years. So "citation needed", as Mr Wales would say, for dispensing with droning dons.
Producer Simon Coates.
Last on

Broadcast