Main content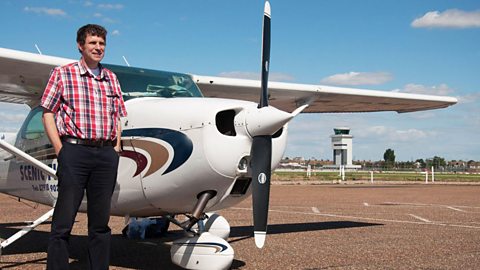 The Flying Archaeologist
Archaeologist Ben Robinson flies over ancient sites in the UK to reveal new evidence of civilisations revealed by aerial surveys.
On TV
No upcoming broadcasts
Supporting Content
Discovering history from the air

Ben Robinson is one of Britain's handful of aerial archaeologists. 

Being up high, hundreds or thousands of feet above the earth, gives him a new and entirely different perspective on the past and historical secrets that have remained hidden for centuries. 

In this series we join him as he flies over four iconic British landscapes – and uncover untold stories from our history that challenge the way we think about our past. 

The Flying Archaeologist sees him in action in the skies using aerial archaeology to tell the incredible story of how people have shaped the English landscape over thousands of years. 

From the air he shows how individual sites connect and relate to each other – and it is this overview that gives us a new understanding of how our ancestors lived, worked and died. 

The films will show how crop marks can reveal past structures and landscape in places where there are no surface traces at all. 

It's a game of chance to hunt down the clues and explore what they mean when Ben is back down on the ground. 

With his bird's eye view Ben casts fresh light on the archaeology and history of Hadrian's Wall, Stonehenge, the Thames Estuary and The Broads.