Main content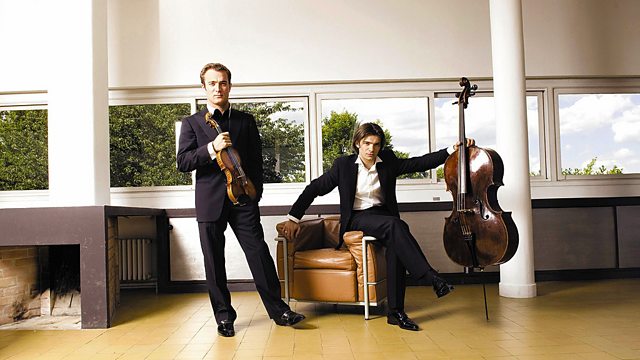 The Capuçon brothers play Faure chamber music
Live from the Wigmore Hall, London, Violinist Renaud Capucon is joined by an ensemble including his brother Gautier on cello. Faure: Violin Sonata No 2, Op 108; Piano Trio, Op 120.
Live from Wigmore Hall, London
Presented by Martin Handley
Violinist Renaud Capuçon is joined by an ensemble including his brother Gautier on cello, in a concert from Wigmore Hall's Fauré Project, a programme of chamber music which spans the composer's long career.
Gabriel Fauré:
Violin Sonata No. 2 in E minor Op. 108
Piano Trio in D minor Op. 120
Renaud Capuçon (violin)
Gérard Caussé (viola)
Gautier Capuçon (cello)
Nicholas Angelich (piano)
Michel Dalberto (piano)
Over the past decade, the Capuçon brothers have become known for their individual approach to chamber music, a style described by the critic of The Telegraph as an 'unfashionably big luxurious tone'. For Renaud Capuçon, individuality in music is everything: he has said "When you listen to those old recordings of great violinists you hear that they use their right arm a lot as a way of expression, where currently many young violinists are using the left hand instead, which makes their play less personal. Hearing this new generation on for instance the radio you don't recognise them."
The Wigmore Hall's Fauré Project explores a composer whose lifetime saw huge changes in musical language, but whose own musical voice remained constant and distinctive. His innovative approach to harmony and fresh treatment of melody can be heard in his youthful First Piano Quartet, which dates from the 1870s. He composed his sublime Piano Trio in D minor in 1923, the year before he died at the age of 79.
More episodes
Previous
You are at the first episode
Music Played
Faure, Live from the Wigmore Hall part 1

Faure, Live from the Wigmore Hall part 2