Main content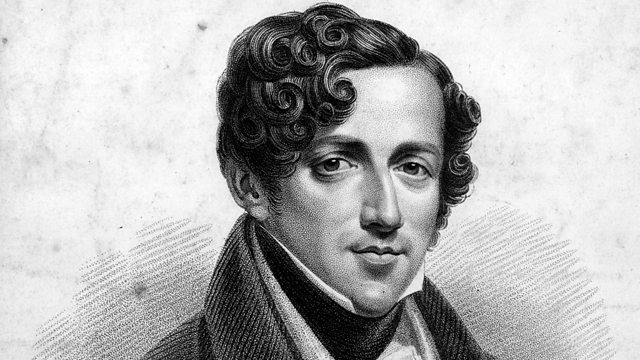 Donald Macleod focuses on Meyerbeer's triumphant return to Paris with Le prophete and his first attempt at comic opera, L'etoile du nord.
The passage of time has not been kind to Giacomo Meyerbeer. The most successful opera composer of his day, whose transformation of the medium helped to set the stage for Wagner, Verdi, Mussorgsky and a host of others, his work is now seldom performed. All this week, Donald Macleod explores the life and rediscovers the work of this king of Grand Opera, in conversation with one of the composer's leading advocates, Robert Letellier.
After the colossal success of his first two French operas, Robert le diable and Les Huguenots, Meyerbeer was keen to produce a third work in the same vein, to ensure that his "system" of music drama was based on "indestructible pillars". This turned out to be Le prophète, first staged in 1849, which itself proved to be a pillar of the operatic repertoire until well into the 20th century. Like Les Huguenots, Le prophète has a basis in historical fact - an Anabaptist revolt that took place in Münster in the 1530s, doubtless given added resonance to first-run audiences by the European-wide unrest of the previous year. Add to this Meyerbeer's most impressively through-composed music to date, the opera's epic scale, and the no-expenses-spared production of the Paris Opéra - including a ballet danced on specially designed roller skates (to simulate the effect of dancing on ice) and the first theatrical use of an electric arc lamp (to simulate a sunrise) - and it's no surprise that audiences didn't know what had hit them. Perhaps the composer realized that he had gone as far as he could in this direction, because for his next operatic project, L'étoile du nord, he turned instead to the gentler medium of comic opera.
Le prophète (1849) - Act 3, scene 1 (extract) - waltz from Skaters' ballet
Royal Philharmonic Orchestra
Henry Lewis (conductor)
CBS MSK 79400 CD 2 tk 5
Le prophète (1849) - Act 2 (complete)
Marilyn Horne (Fidès)
James McCracken (Jean)
Christian du Plessis (Mathisen)
Jean Dupouy (Jonas)
Jerome Hines (Zacharie)
Nicholas Webb (1st child)
Mark Richardson (2nd child)
Assorted anabaptists and citizens . Vernon Midgley, Leslie Fyson,
Neilson Taylor, Bruce Ogston
Ambrosian Opera Chorus (John McCarthy, dir)
Boys Choir, Haberdashers' Aske's School, Elstree (Alan Taylor, dir)
Royal Philharmonic Orchestra
Henry Lewis (conductor)
CBS MSK 79400 CD 1 tks 10-18
L'étoile du nord (1854) - Act 3, finale
Elizabeth Futral (Catherine)
Aled Hall (Danilowitz)
Juan Diego Flórez (George)
Darina Takova (Prascovia)
Vladimir Ognev (Peter)
Wexford Festival Opera Chorus (chorus master: Lubomir Matl)
National Symphony Orchestra of Ireland
Vladimir Jurowski (conductor)
MARCO POLO 8.223829-31 CD 3 tk 8
Producer: Chris Barstow.