Main content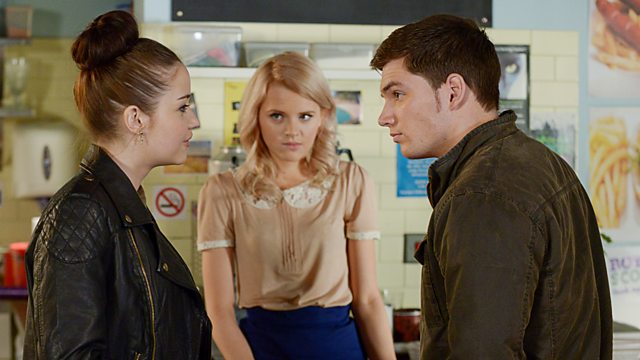 22/04/2013
Janine has difficulty re-starting her life back in Walford. Kirsty's shock announcement gives Roxy an idea, and Liam is terrified when he receives messages from the gang.
Liam offers to take Tiff and Morgan to school. Liam's angry when he spots Ray shadowing him, but agrees to help him at the gym. Liam lets off steam into a punch bag. Bianca, back from a probation meeting, is cheered Liam's having a good day. But Liam's been text 'Liam R.I.P.'.
Max wants to announce the pregnancy but Kirsty's hesitant. She's furious when Max tells Abi, who's come to organise his birthday plans. Abi's hurt, sure Max will forget Tanya's family – she can't believe Tanya's fine with it. Upset, Abi goes to Jay. Comforted, Abi congratulates Kirsty and Max. Kirsty announces the news in the Vic. Max's annoyed. Kat's frustrated Kirsty's bargaining on getting pregnant, rather than telling Max the truth. Joey twigs this is what's troubling the distracted Lauren, who forgot his marathon yesterday. Joey and Lauren kiss and makeup, to Lucy's annoyance.
Billy and Lola avoid Janine outside the Emporium. Later, Billy berates Janine for leaving him and Lola unemployed. He mentions Sharon's share in R & R. Lola's livid with Janine when she gives her money and a present for Lexi - Janine's actions meant she lost Lexi to social services. Janine apologises – she didn't know. She insists she's a good mum and wants her baby back. Initially reluctant, Billy accepts the job of Executive Director of Operations at the Butcher's Joints. Pleased, he buys Ava a drink.
Michael's playing calm – Roxy needn't ban Janine from the Vic, and Tyler can stay at the house. But when Janine fusses Scarlett, he warns she can't just see Scarlett whenever now. In the Vic, Janine gives Michael a document outlining her plans for sole residency.
Meanwhile, Alfie is relaxed with the kids, letting Kat stay with them. Roxy persuades Alfie that they should try for a baby.
Music Played
Timings (where shown) are from the start of the programme in hours and minutes
Credits
| Role | Contributor |
| --- | --- |
| Liam Butcher | James Forde |
| Janine Butcher | Charlie Brooks |
| Michael Moon | Steve John Shepherd |
| Max Branning | Jake Wood |
| Kirsty Branning | Kierston Wareing |
| Abi Branning | Lorna Fitzgerald |
| Jay Mitchell | Jamie Borthwick |
| Lauren Branning | Jacqueline Jossa |
| Joey Branning | David Witts |
| Lucy Beale | Hetti Bywater |
| Alfie Moon | Shane Richie |
| Roxy Mitchell | Rita Simons |
| Kat Moon | Jessie Wallace |
| Jean Slater | Gillian Wright |
| Billy Mitchell | Perry Fenwick |
| Ava Hartman | Clare Perkins |
| Dexter Hartman | Khali Best |
| Bianca Butcher | Patsy Palmer |
| Carol Jackson | Lindsey Coulson |
| Ray Dixon | Chucky Venn |
| Lola Pearce | Danielle Harold |
| Tanya Cross | Jo Joyner |
| Denise Fox | Diane Parish |
| Shirley Carter | Linda Henry |
| Alice Branning | Jasmyn Banks |
| Tyler Moon | Tony Discipline |
| Tiffany Butcher | Maisie Smith |
| Morgan Butcher | Devon Higgs |
| Executive Producer | Lorraine Newman |
| Director | Ian Barber |
| Writer | Colin Wyatt |