Main content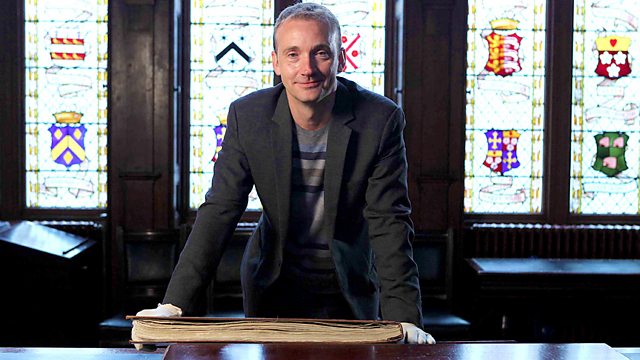 Mapping Ulster
Historian Jerry Brotton uses a unique collection of maps to explore Northern Ireland's origins, revealing the role of these maps and economics in the plantation of Ulster.
Historian Jerry Brotton explores Northern Ireland's vivid origins, tracing the arrival and impact of Scots and English migrants in the sixteenth and seventeenth centuries, through a unique collection of extraordinary maps. Before this moment, the land was wild and sparsely populated. Afterwards, the land, her peoples, politics and faiths, were completely transformed. Jerry reveals the role of maps and economics at the heart of the plantation of Ulster with help from experts and animation bringing rarely-seen primary sources to life.
Clips

Filming 'Mapping Ulster' by Andrea McCartney, producer/director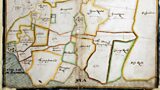 "When we began work on this documentary, a colleague and I travelled to London to visit the National Archives at Kew. To find our way, we did what every modern traveller does - we used our phones to access a map that worked out a route for us across London by tube and on foot.  There was no chance of losing our way – satellite mapped it for us. 
A curator led us through a labyrinth of corridors to a secure, temperature controlled viewing room.  She unlocked a cabinet and withdrew a series of large folders. Within them was the reason for our visit: a series of maps drawn in the early 1600s.  Mapmaker Josias Bodley and his team had been commissioned to make them for King James 1 who needed a detailed survey of the land before beginning his plantation of Ulster. The folders revealed a landscape reminiscent of Tolkien:  heavily forested, with a ridge of mountains to the west and south. If there were roads, they remained unmarked on the map. Towns and villages were absent. The colours were so vivid that it was hard to believe the maps had been made 400 years before.  Travelling on foot with basic instruments, the mapmakers relied upon what they could see at ground level. And in the case of Ulster, they were entering a landscape that had barely been mapped up until the 17th century.   As our research told us it was a country that remained largely 'undiscovered' by the outside world.
Today satellite images of Ulster are accessible at the touch of a button. Zoom in and you can see a network of roads, cities, towns and villages and farmed land. The comparison between the modern and 17th century landscape is dramatic. My challenge while making 'Mapping Ulster' was to find locations marked on the original maps that were also relatively untouched by the modern world.  
Tullahoge Fort, outside Cookstown, is one such location.  The original inaugural place of the O'Neills, it is situated on a hilltop surrounded by trees. From here you have a 360°view of the countryside and in the green hush of the fort, as our presenter Jerry Brotton remarked, you can sense that very powerful things happened there.  Another key feature on the historic maps is the vast oak forests that stretched from the Sperrin Mountains to Lough Neagh. It is really sad to realize that today these have shrunk to a few tracts of woodland carefully preserved by the Woodland Trust. We filmed in the stunning woods of Drumlamph, just outside Maghera.   
The presenter, film crew and myself followed a path underneath a heavy canopy of trees. The route around the forest seemed fairly straightforward but somehow we lost our way. Our phone signals died and with it the satellite technology we now rely so heavily upon.  Standing underneath a canopy of trees it was easier, for a brief moment, to imagine the 17th century mapmaker navigating his way through the unfamiliar, unmapped territory of Ulster for the very first time.
Credits
| Role | Contributor |
| --- | --- |
| Producer | Andrea McCartney |
| Director | Andrea McCartney |
| Executive Producer | Justin Binding |