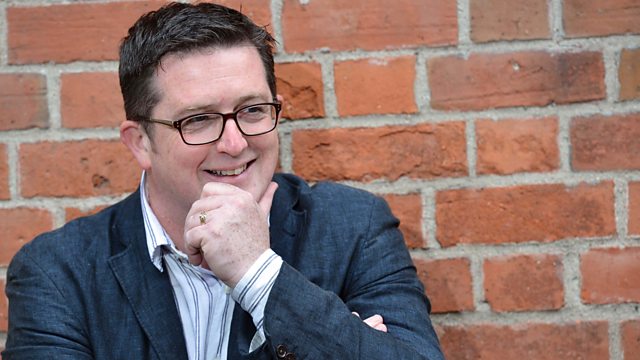 20/04/2013
John Toal looks at health, relationships, hobbies and family along with great music and chat, big interviews, fascinating people and great craic, plus recipes from Paula McIntyre.
Last on
Corn Fried Chicken with Scallion Garlic Sour Cream & Blueberry Pancakes with Blueberry Syrup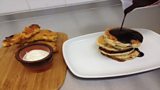 Corn Fried Chicken with Scallion Garlic Sour Cream
4 chicken breasts
200ml buttermilk
1 clove garlic, crushed
1 teaspoon fresh thyme leaves
Whisk the buttermilk, garlic and thyme together and marinate the chicken for at least 2 hours in the fridge and up to six.
150g plain flour
100g polenta/ cornmeal
1 teaspoon onion powder
1 teaspoon garlic powder
1 teaspoon smoked paprika
Mix together. Dip a chicken breast in the flour mixture, coat well, dip back into the buttermilk and then in the flour again. Place on a tray and repeat.
Set oven to 200oc.
Heat half a thumb nail depth of oil in a pan over medium high heat and add the chicken. Cook until golden and crisp on both sides – about a minute each side and transfer to a baking tray and cook for 15 minutes in the oven.
Serve.
Garlic Scallion Sour Cream Dip
200ml sour cream
1 tablespoon rapeseed oil
2 cloves garlic, crushed
4 finely chopped scallions
Fry the garlic in the oil until golden. Add to the sour cream with the scallions, and season to taste.
Blueberry Pancakes with Blueberry Syrup
Blueberry Pancakes
300g soda bread flour
1 tablespoon castor sugar
1 tablespoon golden syrup
2 eggs
350ml buttermilk
200g frozen blueberries defrosted
Whisk the eggs and buttermilk together.
Sift in the flour  and sugar and whisk in the syrup. Fold in the blueberries and set aside for 10 minutes.
Heat a pancake pan or non stick pan over medium high heat and wipe with an oiled piece of kitchen paper.
Drop tablespoons of the batter into the pan apart and when bubbles appear, flip over and cook until firm. Cool slightly on a wire rack.
Blueberry Syrup
300g frozen blueberries
100g sugar
Boil together for 5 minutes. Blend and strain through a sieve.
Serve with the pancakes.