Main content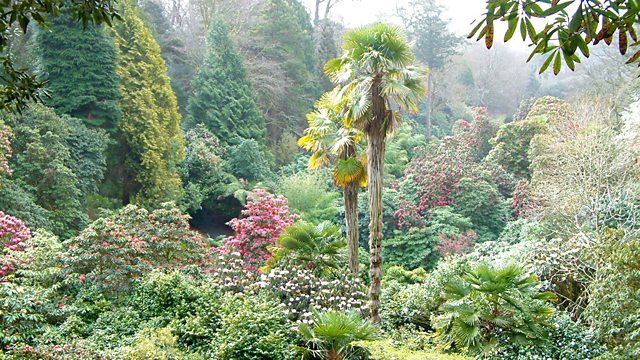 St Keverne
Eric Robson chairs the programme from St Keverne in Cornwall, with Anne Swithinbank, Toby Buckland and Bunny Guinness taking the audience's questions.
This week Radio 4's horticultural panel show is in St Keverne, Cornwall, with Eric Robson in the chair and Anne Swithinbank, Toby Buckland and Bunny Guinness on the panel.
Produced by Howard Shannon.
A Somethin' Else production for BBC Radio 4.
Q: Can you recommend a foolproof method of growing Lily of the Valley and keeping them from year to year?
A: Lily of the Valley can be a difficult plant to establish. They can be best in a border with some competition. A North-facing slope that is well composted should work well, but you should try it in many different positions if you want success.
Q: We've had an East wind off the beach for at least the last 4 weeks and a lot of plants have been scorched badly, will they recover? Can the panel advise remedial treatments?
A: It depends what the plants are (they are bamboos in this case) but they will probably self-rectify, as they will still have a good root base. The worst problem is with evergreen shrubs when they become disfigured and you can either leave it to grow and hope it repairs, or prune hard to encourage re-growth. The key thing is to grow your plants a little harder if they've been stripped, so no high-nitrogen feeds but just good garden compost so that when they come back next year they are tougher. If you thin out the clumps of bamboo it should help reduce scorching and the plant often looks nicer.
Q: We have a tiered North-facing bank next to our conservatory, can you suggest low-growing plants for summer colour? It has Hellebores and Daffodils in the Spring.
A: If you have quite small steps you shouldn't worry about it being North-facing because you haven't got a big shadow covering it and you've got long days, so you could use your colour from anything really. Pelargoniums would do well in a slightly shading place. You could plant ground-cover roses and peg them to the bank. Argyranthemums would do well. You could use shade-tolerant perennials like Phlomis russeliana, which is a ground-cover evergreen plant with yellow spikes in the summer.
Q: I've got an Aeonium Schwarzkopf which is currently flowering for the first time in the greenhouse. What should I do with it when the flowers finish?
A: They produce yellow flowers. When it's finished you should cut the whole top off the plant. It will then respond with side rosettes, taking on a more tree-like shape. You can then take cuttings for more plants or pot it on to become an even bigger specimen.
Q: For the last year I have been trying to grow Celeriac in different parts of the garden. The top growth looks good but they only produce thin routes and no bulbs. The soil is clay but I add lots of compost and horse muck. Why is this?
A: Celeriac, like celery, likes a lot of moisture. If you're on dry soil you can plant it in raised beds, lined with black polythene, with holes in the bottom. This will impede the drainage. If you add too much nitrogen this will make the tops grow, but the bottoms need more phosphates. If you start them off in trays you can plant out when the conditions are right. Low light levels also can encourage too much top growth and not enough bottom. The other issue is that they need spacing of about 30cms in all directions for the roots to spread.
Q: Why do the potatoes I buy from the supermarket for eating, that I keep in the cupboard, send out loads of shoots, while seed potatoes from the garden centre that I keep in the shed don't?
A: It's the warmth of your kitchen that encourages the potatoes to sprout more quickly.
Q: I have two ponds fed by a small river. Is there anyway of eradicating reedmace (Typhaceae) other than getting a digger to uproot it?
A: The un-organic way would be to use Glyphosate that is cleared for use in water. There is only one Glyphosate that is cleared for this use so you must be careful to get the right one and use it with caution. If you want to be organic you can buy a fabric that lies on the bottom of the pond and acts like a mulch to stop weeds growing.
Q: I like to use water from water butts to water greenhouse plants. However, my compost does become covered by a green film and cucumber plants become diseased. Can the team suggest a way of safely purifying the rainwater?
A: Make sure that the water is washing through the rain-butt. A lot of composts are prone to getting the green film on top due to their contents and this is not due to the water used. It is very good to use the water for established plants, but always take water from the tap for seedlings and young plants, because the rain-butt water may be diseased. You can keep goldfish in your waterbutt, or use Potassium permanganate if you don't want to be organic.
Invasion of the giant gunnera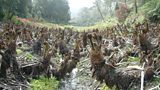 The giant gunnera at Trebah Wooded Valley, just waiting to burst.
Monsters of the plant world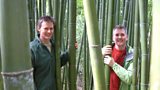 Darren Dickie and Matt James amongst the giant bamboo at Trebah Wooded Valley.