Ella in Berlin
Jazz singers Cleveland Watkiss and Dame Cleo Laine listen to Ella Fitzgerald's Mac the Knife, when she forgot the words in Berlin on 13 February 1960, and then have a go themselves.
For post-war Germany jazz, which had been banned under Hitler, was the music of freedom. When Norman Granz first brought his Jazz at the Philharmonic tours to Europe in the 1950s, Germans flocked to the concerts and Oscar Peterson and Ella Fitzgerald were soon firm favourites.
In February 1960, the German part of the tour opened in Berlin. Mac the Knife, from Brecht's Threepenny Opera, had been a number one for Bobby Darin for nine weeks the previous year, and Ella's friend Louis Armstrong had a hit with it in 1956. But Ella had never sung it. As a tribute to the people of Berlin, she decided she would. She did, but not the version they knew. Yet it was this
improvisation that would win her two Grammy awards.
Cleveland Watkiss, for whom Ella Fitzgerald has always been an inspiration, explores her virtuoso improvisation and scat-singing, in the company of another virtuoso performer, Dame Cleo Laine. They hear from people who were there that night in the Deutschlandhalle, including tour manager, Fritz Rau, pianist Paul Smith and guitarist Jim Hall, and from the author of a forthcoming cultural biography of Ella Fitzgerald, Judith Tick.
Cleveland Watkiss won the London Jazz Award for Best Vocalist in 2010 and was voted Wire/Guardian Jazz Awards best vocalist for three consecutive years. He's had a life-long passion for Cleo Laine and finally had the opportunity to meet - and sing with - her in the course of making this programme!
Producer: Marya Burgess.
Presenter Cleveland Watkiss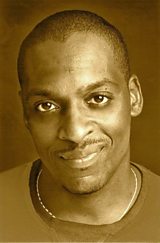 Presenter Cleveland Watkiss with singer Cleo Laine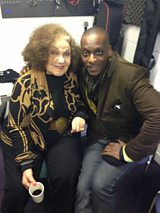 Featured in...
Moving stories of magical musicians - from the fifth Beatle to the first lady of jazz.