Main content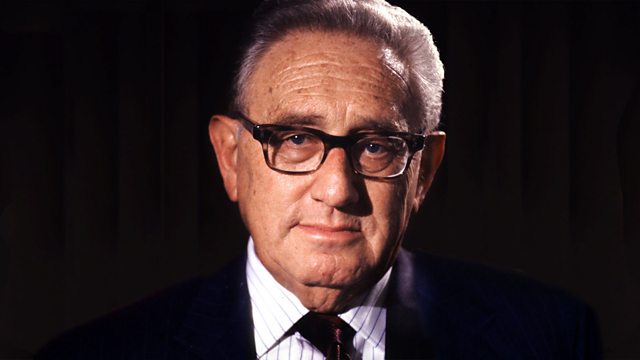 Dr K
Hero or unethical schemer? Mark Malloch Brown reviews the life of Henry Kissinger, a key figure in US foreign policy. From April 2013.
Henry Kissinger is the most celebrated figure in US foreign policy, despite having left office over thirty-five years ago.
His much-vaunted "opening to China" with President Nixon in 1972, his détente policy with the Soviet Union during the Cold War and his shuttle diplomacy across the Middle East, all saw Dr. Kissinger guiding American interests and seeking durable power balances. Ever since then, each US president has sought out Kissinger's sage advice.
But Kissinger's reputation has a darker side. Some critics still find inexcusable the Americans' bombing of Cambodia and involvement in Chile's 1973 military coup. They also deplore what they see as his indifference to human rights.
In this programme, Mark Malloch Brown, a former Foreign Office minister and top official at the United Nations, presents a personal perspective on Dr. K.
As a young man in the 1960s and 1970s, Mark was repelled by what he saw as Kissinger's ruthless realpolitik and apparent downplaying of the plight of peoples from IndoChina to Latin America.
However, over the course of his own long career, Mark's view of Dr K has changed. The collapse of communism, the rise of China and the problems left unresolved by the invasions of Afghanistan and Iraq have led Mark to view Kissinger's insights into foreign policy - and how to achieve stability and security - more sympathetically.
As Kissinger's 90th birthday nears, Mark asks: what are the lessons of Dr K's thinking and practice for our own times?
Also taking part are the historian, Margaret MacMillan; the colleague and critic of Henry Kissinger, Morton Halperin; the long-standing Kissinger aide, Winston Lord; and the author of the award-winning critique of America's bombing of Cambodia, William Shawcross.
Producer Simon Coates.
Last on
Broadcasts