Main content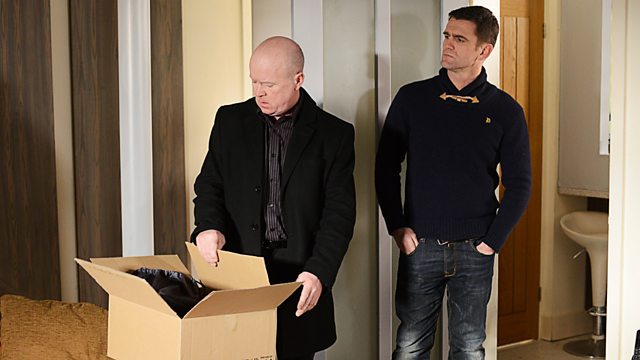 16/04/2013
Jack and Sharon must pull together when Dennis goes missing. Lauren is weighed down by the guilt of another Branning lie, and Joey struggles to cope when she turns to drink.
Jack and Dennis miss each other but Sharon keeps them firmly apart. When Phil collects Sharon and Dennis's things, Jack threatens Phil not to take advantage of Sharon. Phil berates Jack for what the split is doing to Dennis. At Phil's, Sharon discovers Dennis is missing. She calls Jack who finds him hiding in the gym office. Dennis pleads with Jack not to go back – he wants him to be his dad. Returning Dennis, Jack gives Phil an envelope for Sharon. – he'll be around until 4pm. Sharon is flustered, out of pills. She sees Jack's note, which tells her she has the flat while he's away. She runs out only to see Jack's car pulling off.
Max reveals Kirsty's pregnancy to Jack, who urges him to tell Tanya before someone else does. Lauren demands Max speaks to Tanya. Kat discovers Kirsty's secret and offers her support. Kirsty tells Max she'll organise an abortion tomorrow. Lucy buys lunch for Whit, Tyler, Lauren and Joey at the Vic. Lauren gets drunk, to Joey's embarrassment. Kirsty threatens to chuck Lauren out but she retorts that a baby won't be enough to make Max stay. Home, Lauren drunkenly complains to Tanya about being stuck in the middle of another Branning secret. They argue. Exhausted, Lauren tells a shocked Tanya, 'Kirsty's pregnant'.
In the Minute Mart, two youths harass Denise. Shirley intervenes. Later at McKlunky's, the youths make trouble. Shirley throws chips over them and quits. Denise feels bad. Shirley sweet-talks her into giving her shifts at the Minute Mart.
Cora and Dexter play crib. Dexter invites Cora for dinner. Ava asks Tanya to speak to Cora – she wants space.
Ian spots a 'To Let' sign outside the Emporium; he and Bobby brainstorm names for a restaurant. Lucy's angry Ian's still pursuing it, sure he won't find the funds.
Music Played
Timings (where shown) are from the start of the programme in hours and minutes
Credits
| Role | Contributor |
| --- | --- |
| Tanya Cross | Jo Joyner |
| Lauren Branning | Jacqueline Jossa |
| Max Branning | Jake Wood |
| Kirsty Branning | Kierston Wareing |
| Jack Branning | Scott Maslen |
| Sharon Rickman | Letitia Dean |
| Dennis Rickman | Harry Hickles |
| Phil Mitchell | Steve McFadden |
| Shirley Carter | Linda Henry |
| Denise Fox | Diane Parish |
| Dexter Hartman | Khali Best |
| Cora Cross | Ann Mitchell |
| Ava Hartman | Clare Perkins |
| Ian Beale | Adam Woodyatt |
| Lucy Beale | Hetti Bywater |
| Bobby Beale | Rory Stroud |
| Joey Branning | David Witts |
| Tyler Moon | Tony Discipline |
| Whitney Dean | Shona McGarty |
| Roxy Mitchell | Rita Simons |
| Kat Moon | Jessie Wallace |
| Jake | Billy Pamphilon |
| Rowly | Max Williams |
| Manager | Rahul Kohli |
| Executive Producer | Lorraine Newman |
| Director | Daniel Wilson |
| Writer | Colin Wyatt |