Main content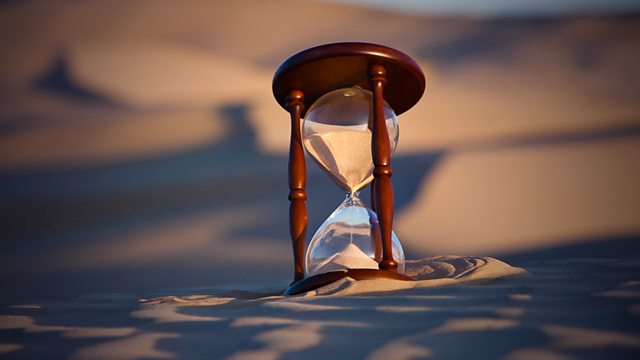 Time
Texts and music on the subject of time, with readings by Gemma Arterton and Rufus Sewell. With Shakespeare, Lawrence and Milton, plus Haydn, Messiaen, Ligeti and Pink Floyd.
Gemma Arterton and Rufus Sewell read extracts on the subject of Time, a theme which has always been popular with authors, poets and composers. From the mourning of the passing of time in poems by Shakespeare, DH Lawrence and John Milton, to the writers who play with the very concept of time. Lewis Carroll's Mad Hatter has bargained with Time for it to always be teatime, while in Kurt Vonnegut's Tralfamadore, moments in the past and future are as permanent as in the present. Martin Amis takes the idea to the extreme by writing the narrative of his novel Time's Arrow backwards! There's also time travel, from Scrooge's nocturnal visit to his past, to HG Wells's Time Machine disappearing into the future. Many composers from the classical, jazz and pop worlds have experimented with unusual or constantly changing time signatures. Guillaume de Machaut and Conlon Nancarrow go further by writing music in which music retraces its steps and goes backwards. The programme also includes music by Haydn, Messiaen, Ligeti and Pink Floyd.
Producer - Ellie Mant.
Last on
Music Played
Timings (where shown) are from the start of the programme in hours and minutes
William Shakespeare: Sonnet 12

Read by Rufus Sewell

00:01

Edvard Grieg

Vanished Days Op.57'1 (extract)

Performer: Mikhail Pletnev (piano)

HG Wells: The Time Machine

Read by Gemma Arterton

00:04

John Adams

Short Ride in a Fast Machine

Performer: City of Birmingham Symphony Orchestra Performer: Simon Rattle (conductor)

Allen Ahlberg: The Slow Man

Read by Rufus Sewell

00:09

John Dowland

Time stands still (extract)

Performer: Emma Kirkby (soprano) Performer: Anthony Rooley (lute)

Lewis Carroll: Alice's Adventures in Wonderland

Read by Gemma Arterton

00:13

Desmond

Take Five (extract)

Performer: Dave Brubeck Quartet

Dava Sobel: Longitude

Read by Rufus Sewell

00:16

Sir Harrison Birtwistle

Harrison's Clocks: Clock 5 (extract)

Performer: Joanna McGregor (piano)

00:18

Joseph Haydn

Symphony no.101 in D major, 'The Clock'; 2nd movement (extract)

Performer: Royal Concertgebouw Orchestra Performer: Nikolaus Harnoncourt (conductor)

Anon: Epitaph in Lydford Churchyard

Read by Gemma Arterton

Roger McGough: Potato Clock

Read by Rufus Sewell

00:21

Mason, Waters, Wright, Gilmour

Mason, Waters, Wright, Gilmour - Time (extract)

Performer: Pink Floyd

Oscar Wilde: The Picture of Dorian Gray

Read by Gemma Arterton

00:26

Leos Janáček

The Makropulos Case (extract)

Performer: Elizabeth Söderström Performer: Anna Czaková Performer: Peter Dvorský (Albert Gregor) Performer: Vienna State Opera Chorus Performer: Vienna Philharmonic Performer: Charles Mackerras (conductor)

00:30

Franz Schubert

Moment Musicaux in A flat major, Op.94'6

Performer: Jenö Jandó (piano)

D. H Lawrence: Piano

Read by Rufus Sewell

Daljit Nagra: 8

Read by Gemma Arterton

00:37

Michael Nyman

Time lapse

Performer: The Michael Nyman Band Performer: Michael Nyman (conductor)

Kurt Vonnegut: Slaughterhouse-Five

Read by Rufus Sewell

00:43

Guillaume de Machaut

My End is my Beginning (extract)

Performer: Orlando Consort

TS Eliot: Four Quartets - East Coker

Read by Gemma Arterton

00:47

Radiohead

Pyramid Song

Performer: Radiohead

Martin Amis: Time's Arrow

Read by Rufus Sewell

00:52

Conlon Nancarrow

Study number 21

Performer: Player Piano

OTHER MINDS OM 1012/15-2.

John Milton: On Time

Read by Gemma Arterton

00:56

Olivier Messiaen

Quartet for the End of Time; Louange a l'Immortalitie de Jesus (extract)

Performer: Albert Tetard (cello) Performer: Daniel Barenboim (piano)

Charles Dickens: A Christmas Carol

Read by Rufus Sewell

01:02

Joseph Haydn

The Spirit's Song (extract)

Performer: Carolyn Watkinson (mezzo-soprano) Performer: Glen Wilson (fortepiano)

Sylvia Kantaris: Snapshotland

Read by Gemma Arterton

Charles Simic: The Clocks of the Dead

Read by Rufus Sewell

01:06

György Ligeti

Clocks and Clouds (extract)

Performer: Cappella Amsterdam Performer: ASKO/Schönberg Ensemble Performer: Daniel Reuss (conductor)

Valerie Bloom: Time

Read by Gemma Arterton

01:08

Frédéric Chopin

Minute Waltz, Op.64'1

Performer: Dmitri Alexeev (piano)

01:10

Bo Holten

A Time for Everything (extract)

Performer: BBC Singers Performer: Bo Holten (conductor)

The Bible: Ecclesiastes: A time for everything

Read by Rufus Sewell

Broadcasts

The hidden history of plant-based diets