Main content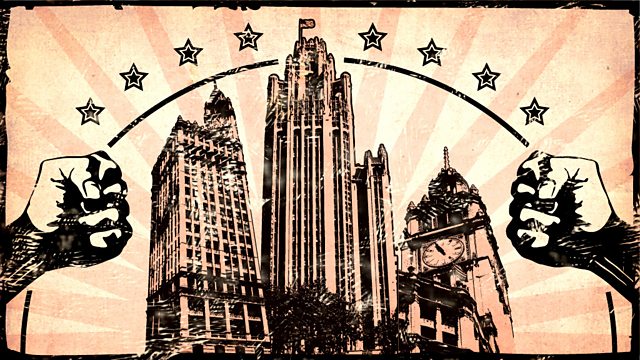 Jungle of Cities
Bertolt Brecht meets the gangster movie in an early play in which two men join in a deadly struggle for survival, amid Brecht's uniquely tough and poetic portrayal of Chicago, 1912.
By Bertolt Brecht, in a translation by Anselm Hollo.
Adapted for radio by Mark Ravenhill.
First performed in 1923 (then revised in 1927), 'Im Dickicht der Städte' is one of Brecht's earliest plays, in which he began to move away from the influence of Expressionism towards a new style. His sources ranged from the bizarre facts of a real-life Chicago murder in 1912, to 'Une Saison en Enfer' and the relationship between Rimbaud and Verlaine, to J V Jensen's 'The Wheel' and Upton Sinclair's 'The Jungle'.
He fused them all into this darkly compelling vision of the impossibility of real human contact in 'the crushing impact of cities' - Brecht's vision of the mechanistic inhumanity and poverty of the early twentieth-century city.
Brecht wrote in a programme for the play: 'An idealised fight such as can be seen in the play ... is at present only to be found in the theatre. ... [Its] simple basic conception is that pure sport might involve two men in a fight which transforms them and their economic circumstances to the point of unrecognisability. The passion for sport is here being classed with all the other passions already at the theatre's disposal. ... The territory used for fighting in this play is probably unfamiliar. For the territory so used consists in certain complexes of ideas which a young man like George Garga holds about the family, about marriage, or about his own honour. His opponent uses these complexes of ideas in order to damage him. Moreover, each combatant stimulates such thoughts in the other as must destroy him; he shoots burning arrows into his head.' (translation: Gerhard Nellhaus)
George Garga ..... Paul Ritter
Shlink ..... Nicholas Woodeson
The Worm ..... Kerry Shale
The Baboon ..... Richard Ridings
Maynes/Pat Manky ..... Stephen Hogan
Jane Larry ..... Tracy Wiles
Marie Garga ..... Melody Grove
John Garga ..... Nathan Osgood
Mae Garga ..... Buffy Davis
Man ..... David Seddon
Producer/Director, Jonquil Panting.
Share or download this playbill for Brecht's play
Binaural sound: doing the best for Beckett