Main content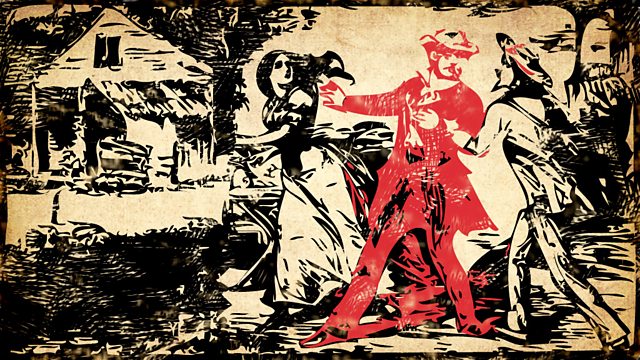 Set on a Louisiana plantation in the 1850s, Dion Boucicault's classic melodrama exploring Abolition and the role of theatre in politics.
By Dion Boucicault
Adapted by Mark Ravenhill
The Octoroon, Dion Boucicault's 1859 melodrama, sparked debates about the abolition of slavery and the role of theatre in politics. This production was recorded in front of an audience at Theatre Royal Stratford East, the venue that saw an earlier production of the same play in 1885.
The story centres around the inhabitants of the Louisiana plantation of Terrebonne. Zoe, the "octoroon" of the title, is the daughter of its owner Judge Peyton by one of his slaves, but she has been raised as part of the family. When the Judge dies, the plantation falls into financial ruin and the Judge's handsome nephew George arrives as heir apparent. George and Zoe soon find themselves in love, but their future happiness is thrown into jeopardy by the plantation's evil overseer Jacob McLosky who has dastardly designs on both the property and Zoe. McLosky will stop at nothing - not even murder.
Dion Boucicault's play contains all the elements of great melodrama - doomed love, murder, corruption, and live musical accompaniment throughout.
Music composed and performed by Colin Sell
Director: Sasha Yevtushenko
Production Co-ordinator: Lesley Allan
Studio Managers: Colin Guthrie, Alison Craig, Steve Oak
First broadcast in May 2013.
Last on
Share or download this playbill for Boucicault's melodrama 'The Octoroon'

Matthew Sweet is joined on stage at the Royal Stratford East by playwright Mark Ravenhill.
Clips

Credits
| Role | Contributor |
| --- | --- |
| Writer | Dion Boucicault |
| Adaptor | Mark Ravenhill |
| Mrs Peyton | Barbara Barnes |
| Sunnyside | Geoffrey Burton |
| Jacob M'Closky | Steven Hartley |
| Salem Scudder | Toby Jones |
| Wahnotee | Earl Kim |
| Dora Sunnyside | Claire Lams |
| Paul | John MacMillan |
| Zoe | Amaka Okafor |
| Ratts | Paul Stonehouse |
| Pete | David Webber |
| George Peyton | Trevor White |
| Composer | Colin Sell |
| Director | Sasha Yevtushenko |
| Producer | Jeremy Mortimer |
Broadcasts

Binaural sound: doing the best for Beckett