Tanika Gupta, BC Johnson, Corin Throsby & Laurence Scott, Rick Gekoski
Rana Mitter talks to the playwright Tanika Gupta. Her new play for the RSC, The Empress, opens at the Swan in Stratford on 17th April. It explores the little known stories of Indian immigrants to late Victorian society: from the ayehs, the nannies brought to England by British families returning home from Imperial adventures, to the first Indian MP; the lascars (sailors) and Abdul Karim, the servant presented to Queen Victoria as a gift on her Golden Jubilee.
New Generation thinkers Corin Throsby and Laurence Scott propose the idea that crowd-funding and social media are changing the relationship of artists and their audiences. Is there a new, democratised patronage and is audience led production diversifying or damaging creativity?
Rana discusses the allure of the missing work of art with the writer Rick Gekoski. Are some works of art more interesting in their absence? Clementine Churchill famously destroyed the portrait of her husband made by Graham Sutherland. Can the destruction of art ever be justified?
Ian Macmillan and Julia Jordan join Rana to discuss the films of the experimental writer BC Johnson who would have been eighty this year.
Producer: Natalie Steed.
Last on
Rick Gekoski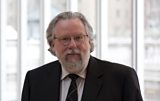 Lost, Stolen or Shredded: Stories of Missing Works of Art and Literature by Rick Gekoski is published by Profile Books.
Photograph (c) Martin Crook.
Tanika Gupta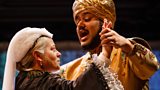 The Empress
written by Tanika Gupta is on at the Royal Shakespeare Company, Stratford Upon Avon, until 4th May.