Main content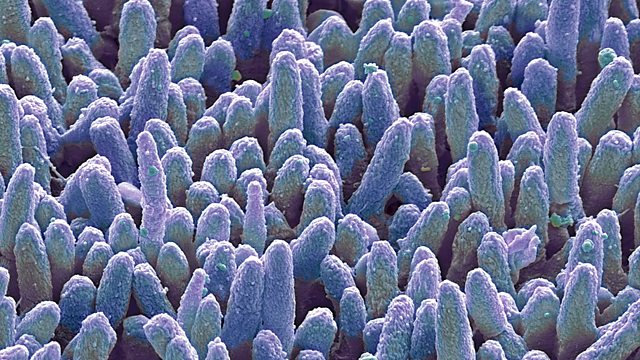 A Natural History of Me!
Paul Evans explores the human self, after discovering that only one in ten cells in our bodies is human; the rest are microbial cells. So, if we're not all human, what are we?
If you thought the human body was only made of human cells, then think again. What scientists now know is that for every one human cell in a healthy body there are about ten times as many microbial cells, mainly bacteria. There's likely to be several thousand different microbes associated with the human body. This collection of bacterial populations is known as the human microbiome.
In this programme, Paul Evans discovers just what these vast numbers of bacteria and other microscopic organisms are doing inside us, how important they are to our very existence and how they affect our perception of self.
"When my human body runs for the bus" says Paul "Ten times as many non-human cells hop on too. When I go to sleep, 10 times as many other cells get on with minding my business".
Changes in these communities may be responsible for gum disease, skins diseases, digestive disorders and even obesity and cancer.
But what does all this actually mean and what are the implications for this new found knowledge for what we thought we knew about ourselves . our human self? After all, if we're not all human, then what are we?
With the help of scientists as well as philosophers including Satish Kumar and writer and performer A.L.Kennedy, Paul goes in search of some answers to help understand the human ecology, explore ideas about communities and self, and answer the question, "what am I"? It's a fascinating and unexpected journey which takes him from a busy laboratory in Kings College London Dental Institute to a winter woodland in Devon, and what he discovers is that without our microbes we might not exist at all; we are our microbes. As former Jain Monk, and Fellow of Schumacher College Satish Kumar says "My microbes, therefore I am"
Presenter Paul Evans, Producer Sarah Blunt.
Last on
What hides in a mouth?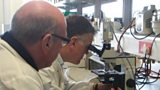 Paul Evans (Left) with Professor William Wade examining the microscopic world of mouth bacteria.
Download the programme for free
This programme will be available to download for free via the BBC
Best of Natural History
podcast straight after it has been broadcast.  To subscribe to the podcast, click
here
. 
Broadcasts