Main content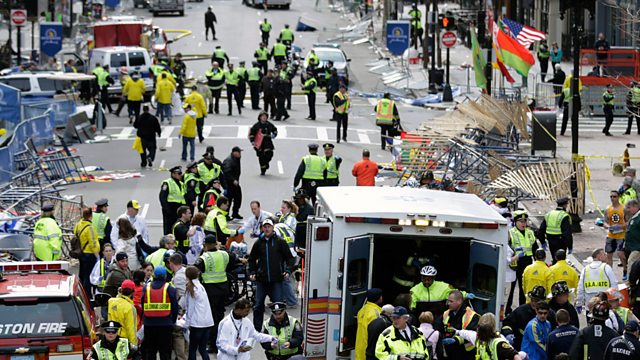 16/04/2013
Morning news and current affairs with Evan Davis and Justin Webb, including the Boston blast aftermath, planning law controversy, and is there life in outer space?
Morning news and current affairs with Evan Davis and Justin Webb, including:
0748
The government faces a Commons rebellion tomorrow over its plans to relax the planning rules to allow people to build single story extensions in their back gardens. Zac Goldsmith, conservative MP for Richmond, and Heather Wheeler, Conservative MP for South Derbyshire, discuss the government's plans.
0810
At least three people have been killed and more than 100 injured in two explosions at the finishing line of the Boston marathon in Massachusetts. Fatma Tanis, a student journalist who was there, reflects on the incident.
0816
How will the US react to the explosions at the Boston marathon. Rick Nelson, a homeland security specialist at the Centre for Strategic and International Studies in Washington, provides analysis.
0822
Caste - the rigid social hierarchy associated with India - is part of life for Hindus in the UK too, and, say Asian groups, leads to unacceptable discrimination in Britain. The BBC's religious affairs correspondent Robert Pigott reports.
0833
Prison inspectors say they have "serious concerns" about the lack of treatment provision for 300 sex offenders at Moorland Jail in south Yorkshire. Danny Shaw, the BBC's home affairs correspondent, and Eoin McLennan, president of the Prison Governors Association, examine what needs to be done in prisons to improve the chances of rehabilitation of sex offenders.
Last on
A rundown of stories from Tuesday 16 April including programme highlights and comment.
Broadcast