Main content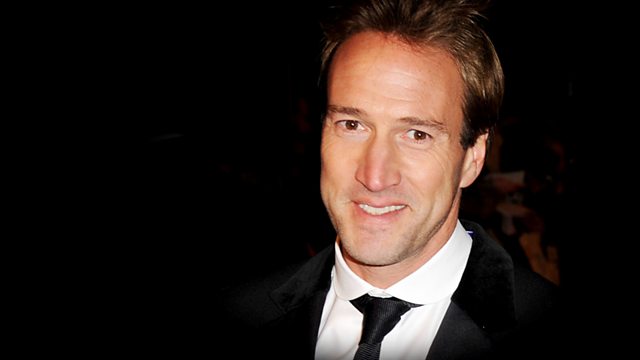 Lindsey Davis and the Inheritance Tracks of Graham Fellows
Sian Williams and Richard Coles with author Lindsey Davis, travel with Ben Fogle, Graham Fellows' Inheritance Tracks and a holocaust survivor who became a famous singer in Germany.
Sian Williams and Richard Coles with author Lindsey Davis, creator of the much loved Roman detective 'Falco', the Inheritance Tracks of Graham Fellows- the creator of John Shuttleworth-the story of Dorit Oliver-Wolff who hid in Budapest during WW2, became a famous singer and now tours schools telling young people about her experiences, Ben Fogle exploring explorer Colonel John Blashford-Snell's house, the pleasure of digging with trowels and conductor John Lubbock founder of the Orchestra of St John talking about the importance of taking music out in the every nook and cranny of the community.
Producer: Chris Wilson.
STUDIO GUEST :: LINDSEY DAVIS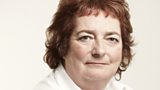 Lindsey Davis, historical novelist and creator of the much-loved  Roman detective 'Falco' talks about her life and work.
Listen to Falco on BBC Radio 4 Extra.
TRAVEL :: BEN FOGLE MEETS COLONEL JOHN BLASHFORD-SNELL
Explorer Ben Fogle explores explorer Colonel John Blashford-Snell's house and finds lots of interesting, strange and mysterious things.
INHERITANCE TRACKS :: GRAHAM FELLOWS
Graham Fellows, whose alter ego John Shuttleworth has been delighting audiences for years,  talks about two pieces of music with great meaning for him.  The track he has inherited is The Farmer and the Cowman from the musical Oklahoma and the one he'd like to pass on to his children is It's Getting Better by Mama Cass Elliot.
MUSIC THERAPY :: JOHN LUBBOCK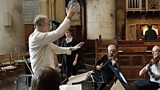 John Lubbock is the founder, conductor and artistic director of the Orchestra of St John. As well as playing music, John is passionate about taking that music into every part of the community and some aspects of his work are aimed at young and old people with disabilities. John talks about his work and why he feels music is such an important force for good.
HOLOCAUST SURVIVOR :: DORIT OLIVER-WOLFF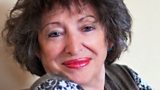 Dorit Oliver-Wolff survived the war in Budapest with her Mother - as Jews they were on the run for years and narrowly evaded capture. After the War, Dorit became a famous singer, especially popular in Germany and was, ironically, a pin up for the German Air Force.   Today she lives in Britain where, late in life, she tells her story in schools and clubs, talking to young people about her experiences and her conviction that we must all get on together whoever and whatever we are.
GUERRILLA REPORT :: ARCHAEOLOGY
Dr Cassie Newland reports on her love of archaeology and the visceral thrill of the dig.
BLOG :: RICHARD'S SHED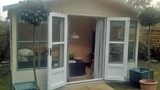 It is a truth universally acknowledged that a man in the second half of his life will want a shed. This Easter, reader, I got one. It was my birthday and to mark it my significant other presented me with what he calls a Summer House. I call it a shed with more glazing than normal, but he being him it became very swiftly less my present and more his project. For the past fortnight he has turned it from an honest and perfectly respectable shed into a shed fit for Le Notre. It is painted in fashionable colours, it has power, it has a tiny wood burner and roman blinds which he made himself from French ticking. It has a day bed and a rug, it has a light fitting which has excited much comment in social media, it has a sound system and a bowl of narcissi. I love it and am destined to spend many hours in it over the next few months as I write my book, which is the reason that lies behind his choice of gift. Lucky me.
There is a tiny, tiny problem, however. He won't get out of it. More than that, he has started behaving rather unreasonably about me suggesting modifications to suit my needs and wishes. I ordered a table and chair to put in the window so I could gaze out on the changing garden in between paragraphs. I could tell he didn't approve and before they arrived he intruded his own table and chair into the space destined for them and practically nailed them to the floor. "But this is my shed", I complained. He murmured "summer house", and I realised at once that I am going to have to find another retreat. 
As I do, he can sit in there listening to the wireless, from which will issue forth this week's Saturday Live. Sian and I will be talking to Lindsey Davis, author of the Roman detective series 'Falco'; the founder of the Orchestra of St John describes his mission to take music to places it doesn't normally get to; we meet too a woman who hid form the Germans in wartime Budapest and later became a singing star; we also turn over the yielding clod with a sharp archaeologist's trowel; Ben Fogle meets John Blashford-Snell; and we have Inheritance Tracks from Graham Fellowes AKA John Shuttleworth.
Joins us then.
Reclaim The Shed!
STUDIO PHOTO :: Richard, John Lubbock, Dorit Oliver-Wolff, Sian, Lindsey Davis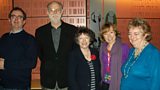 Credits
| Role | Contributor |
| --- | --- |
| Presenter | Sian Williams |
| Presenter | Richard Coles |
| Producer | Chris Wilson |
| Producer | Sharon Banoff |