Main content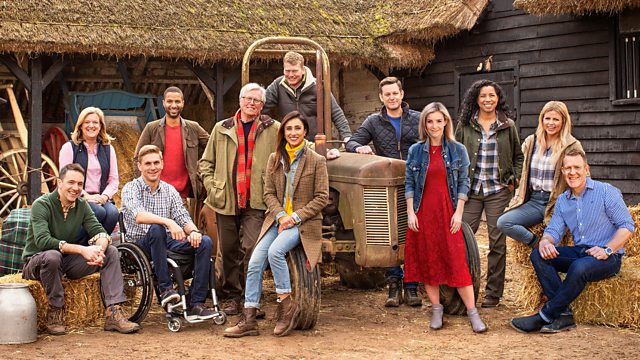 Golden Valley
Countryfile visits the glorious Golden Valley. Matt Baker is with the farmers trying to make a living from sheep, whilst Julia Bradbury makes friends with some llamas.
Countryfile visits the glorious Golden Valley, on the borders of Herefordshire and Wales. Matt Baker is with the hill farmers trying to make a living from sheep, whilst Julia Bradbury is in the foothills of the Black Mountains, making friends with some llamas. She also visits the Brecon Beacons National Park to find out why it is one of the few places in the world to be designated as an international dark sky reserve.
Tom Heap discovers what is being done to protect the seas that surround our island nation as he travels to Lundy to investigate Marine Conservation Zones. Adam Henson is on manoeuvres with the British Army. Soldiers serving out in Afghanistan are working closely with Afghan farmers. The troops are being trained in basic agricultural practice so they can pass on their knowledge - Adam finds out more.
Farming in the Black Mountains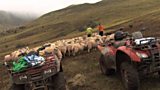 It takes a tough breed of sheep, and farmer, to make a living in the Welsh hills. The steep, rugged terrain means grass doesn't grow as well here and in the winter there's often snow on the ground. But despite the challenges thousands of sheep still roam these mountains, coming home a few times a year for lambing and shearing. Matt Baker meets a farmer whose family has been running sheep on the mountains for generations and discovers just how different it is to his farm at home.
Julia's llama challenge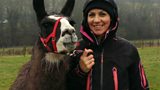 Julia Bradbury is just across the border from Matt, in Herefordshire's Golden Valley. She is visiting one of the many farms dotted throughout this landscape. There's something different about this farm though. Its milking parlour is home to a film archive with thousands of reels of film carefully stored in climate-controlled conditions. And, of course, obstacle-racing llamas live in the barns! Julia meets Brodgar, who's a national champion, and challenges Matt to a race. But whose llama will be victorious?
Marine Conservation Zones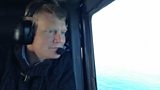 This year the government is planning to create 30 new Marine Conservation Zones around the British coast. The idea is to preserve and encourage the wealth of natural marine life in our seas, by creating protected areas where activities such as fishing could be limited or even banned. Tom Heap visits the Isle of Lundy, where the first MCZ has already been set up, to find out how it is helping the plants and creatures that live under the water. But, as he discovers, these protected areas are not without controversy. On one side are people like fishermen, who are worried about the impact on their business. On the other are conservationists who say that there simply won't be enough MCZs to do a worthwhile job.
Adam and the army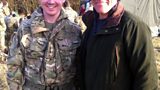 Spring is a busy time for Adam Henson. New-born lambs out in the fields need daily attention. These young animals often get separated from their mothers and pairing them back up is vital so the lambs stay well fed and protected. Adam also travels to Marlborough in Wiltshire to find out why the British Army are training soldiers in basic agriculture.  War-torn countries like Afghanistan rely on agriculture - 80% of their population are involved in farming - but they don't always have the infrastructure to support it. As Adam find outs, the British army is running a training program for soldiers that will help on the ground in Afghanistan.
Matt and the mountain bikers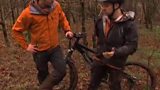 Matt travels further down the mountain valley to meet farmer Jo Binns. To make his farm more efficient, he's cut the number of sheep he keeps and planted woodland, which is managed by local volunteers. Jo uses some of it to power his farm, and his wood-burning hot tub! But today he wants to see if his land could be used for a mountain biking course. Matt meets some students who are willing to get pretty muddy to find out.
Julia sees stars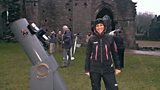 Cut off from bright city lights, the valleys of the Black Mountains are the perfect place to see the night sky. The mountains themselves are within the Brecon Beacons National Park, which has just been made the world's fifth International Dark Sky Reserve. Julia hopes to see some of the faintest stars in the sky as she prepares for a night of stargazing at Llanthony Priory. But she's got a cunning plan ready in case the weather turns. Will she need to use it?
Credits
| Role | Contributor |
| --- | --- |
| Presenter | Matt Baker |
| Presenter | Julia Bradbury |
| Presenter | Tom Heap |
| Presenter | Adam Henson |
| Series Producer | Teresa Bogan |